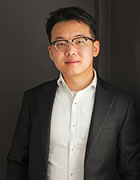 Melbourne Tutor in Calculus, Maths, Statistics, VCE Mathematical Methods, VCE Specialist Mathematics
(6 student reviews)
(6 reviews)
**CURRENTLY ACCEPTING STUDENTS FOR 2018 -- PLEASE EMAIL/TEXT FOR MORE INFO -- LIMITED PLACES AVAILABLE**
Ming completed his VCE in 2014 with raw scores of 48 and 50 for Mathematical Methods and Specialist Mathematics respectively. He is in his final year of his Bachelor of Commerce (Actuarial Studies) from the University of Melbourne and will be undertaking further studies in the field of science.
After graduating VCE, Ming has worked with numerous large companies on a range of maths and science products. These companies include Cambridge University Press, the leading maths text publisher in Australia, Edrolo, Texas Instruments and more. Ming has written, edited and reviewed many of the latest VCE and high school level mathematics and science textbooks for Cambridge University Press. He is the presenter in many of the online tutorial videos for the latest Cambridge VCE/HSC textbooks.
Outside of this, Ming has actively worked with numerous high-school and university students each year, helping them achieve their goals and get into the course of their dreams.
------------------------------------------------------------------------------------------------------------------------------------------
Whats on offerWeekly private tutorials for Mathematical Methods and Specialist Mathematics
These tutorials cover all elements of the study design as outlined by the VCAA. Extension topics that are outside the scope of the syllabus may also be discussed as needed. There will be a focus on maximising marks through methods to avoid careless errors, exam tips, good setting out and learning how to recognise traps. In addition, conceptual understanding is encouraged in our classes and we avoid rote-learning techniques.
The weekly tutorials include:
-Mathematical Methods Units 1-4
-Specialist Mathematics Units 1-4
---------------------------------------------------------------------------------------------------------------------------------------------
Over the past few years, Ming has established himself to be an accomplished tutor at high-school, VCE and even university levels. Here is just some of the feedback from his past students:
-Thank you for tutoring Grace this year. Your support was invaluable & I am sure she would have struggled without you. I also wanted to check if you'll still be available to tutor my younger daughter..
-Thank you so much Ming :) Best tutor ever!!!!! I am doing revision of topics I completely understand :)
-Katie got an A on both SAC. I'm very surprised. Hope this is a result of her studying hard and not just being lucky that similar questions came up.
----- Contact, enrolment and location ------
If you have any questions or would like to enrol, please don't hesitate to contact Ming. Please include:
1. Your name
2. Your child's school
3. Year level
4. Subject
5. A contact number or email to reply to
I will get back to you at my earliest convenience and have a consultation with you and your child free of charge.
Email: ming_lian@icloud.com
Phone: 0430027481 (text message preferred)
WeChat: mingliann
Location: home visits or public libraries in South Eastern suburbs. As long as you are within a reasonable distance from me, there will be no extra charges.
Weekly tutorials will be scheduled on weekends during regular school term. Tutorials can be scheduled on weekdays during school holidays.
Subjects
Calculus -

Secondary

Maths -

Secondary

Statistics -

Secondary



VCE Mathematical Methods, VCE Specialist Mathematics
Experience
Ming has tutored the following subjects before:
*VCE General Maths
*VCE Maths Methods
*VCE Specialist Maths
*VCE Physics
*Year 7 - 10 Mathematics
*Chemistry (Tertiary)
*Mathematics (Tertiary)
*Ming participated actively at the Texas Instruments Learn/Energise/Connect (LEC) event. He attended this with one of the most inspirational and well renowned educators from Victoria, demonstrating the functions
of the Texas Instruments TI-Nspire CAS calculator to various participants, comprised of teachers and students visiting from all over Australia.
Qualifications
VCE 2014
*Mathematical Methods: 48 raw (50 scaled)
*Specialist Mathematics: 50 raw (55 scaled)
University of Melbourne: 2015 - 2017
*Bachelor of Commerce (Actuarial Studies)
*Working With Childrens Check (WWWC)
Services
Group Tuition
Phone Help
Online Help
Rates
$50 per hour
Gender
Male
Updated
Profile last updated on 23-Sep-2017
(registered 14-Nov-2014)
Contact