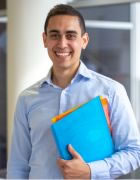 Perth Tutor in Maths, Physics, Chemistry, UMAT
(41 student reviews)
(41 reviews)
Hi, I'm Tristan, your Maths, Physics, Chemistry and UMAT specialist tutor & study mentor. Over the past 9 years I have tutored and mentored 450+ students in WA to attain state ranking WACE results in Maths, Physics & Chemistry.
As a degree-qualified engineer, academic publisher and full-time accredited tutor; I empower students to be true learners, by instilling them with the knowledge, confidence, vigour and real-world insight to be successful in their academic, professional and personal lives.
In the delivery of my lessons, I focus on teaching students about technical and practical applications of maths, science and in the real world; and I take a holistic approach to educate my students from first principles. Further, I encourage students to apply critical thinking skills and scientific method to solve text book, exam-style as well as real world problems in preparation for their final WACE exams.
Further, I am well familiarised with the WA Curriculum, governed by WACE, standardised & scaled by TISC; and having written school examination questions I specialise in teaching students the first principles behind exam-style questions and helping students master their yearly assessments.
Here are the subjects I tutor:
ATAR Maths Specialist - (Year 11 & 12)
ATAR Maths Methods - (Year 11 & 12)
ATAR Maths Applications - (Year 11 & 12)
ATAR Physics - (Year 11 & 12)
ATAR Chemistry - (Year 11 & 12)
UMAT - Medicine & Dentistry entry
I also tutor Maths & Science for Year 9 & Year 10 students - and provide resources and testing materials for students in Year 6 undertaking the GATE Test (gifted and talented students) in 2017.
My proven specialty is to build the foundation for year 10/11/12 students to empower students to achieve 99+ ATAR results. Further, I have tutored students from over 30 local WA schools including: Christchurch Grammar, Hale, Wesley College, Scotch College, Perth Modern School, Saint Marys, Penrhos, Iona, John XXIII, St Hildas Anglican School, Shenton College, Newman College, Sacred Heart College, Canning Vale College, Churchlands, Willetton Senior, Rossmoyne, Trinity College and many more..
As an additional support, I provide students access to my extensive archive of subject specific topic tests, mock exams, WACE trial papers, UMAT papers and most importantly full-solution-sets to help students achieve their best performance.
I can drive to all suburbs north, south, east and west. I arrive on time and each of my lessons go for 90-120mins, followed by a progress de-brief to help students with general study questions; such as time management strategies and ATAR performance tracking.
If you are looking for an engaging Maths, Physics, Chemistry or Engineering tutor who understands your direct needs and can help you achieve exceptional results, feel free to call me today on 0450 903 192.
I look forward to helping you achieve your academic goals and wish you all the best with your studies.
- Tristan Geiles
Subjects
Experience
A tutoring experience centered around YOU.
I am a passionate full-time tutor and former creative electrical engineer.
9 years tutoring experience in WA.
Tutored 450+ local Western Australian students.
Specialist subjects: Maths, Physics, Chemistry and Engineering.
Focused on advancing STEM education in WA.
Favorite subject: ATAR Physics Year 12.
Qualifications:
Electrical Engineering Degree (Honours) - Curtin University
Tutor for over 9 years across +30 schools. Perth Modern School Tutor.
Diploma Finance & Management - AAMC
Education Board Positions:
Board Member Education Advisory Committee WA 2016
STEM (Science, Technology, Engineering, Maths) Advisory Panel Member 2016
Chairman Young Engineers Australia WA 2016
Board Member Engineers Australia WA 2016
Awards:
Top Ranked Thesis Class 2012 - Curtin University
Engineering Scholarship Recipient Western Power (2008-2012)
Engineering Scholarship Recipient API (2008-2012)
Engineering international exchange scholarship 2011 - China
High School TEE Engineering Bursary Recipient, Curtin University 2008
Academic Publisher for the Institute of Electrical Engineers (IEEE)
Qualifications
B.Eng Elec (Honours) MIEAust DipFin
Australian Accredited Specialist Tutor
Legislatory:
Working with Children's Check
Police Clearance Check
Services
Private Tuition
Group Tuition
Teaching Tuition
Home Visits
Phone Help
Online Help
Rates
$60 p/hr - Individual lessons (drive-out included)
$40 p/hr - Groups of 2-6 students
$25 p/hr - Groups of 7-10 students
My goal as a tutor is to help my students enjoy education and achieve top ATAR results.
Its my promise to you and in partnering together we can achieve great results.
Contact me today on 0450903192 for a chat.
Gender
Male
Updated
Profile last updated on 22-Oct-2017
(registered 18-Apr-2016)
Contact