Simplified learning | 1-on-1 session | 7 days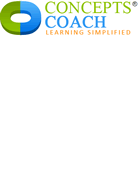 Melbourne tutor in Accounting, Business Studies, CPA-CA, Finance, Management, Management Accounting, Company Accounting, Financial Accounting, Cost Management, Corporate Finance, Company Reporting, Business Finance, Accounting for Decision Making, International Finance & Financial Management, CPA Foundation/Professional level and CA modules.
(21 student reviews)
"I am from a professional non-accounting background and was finding even the most basic definitions and concepts of accounting difficult in my MBA course. The card deck method has enabled me to grasp those concepts very quickly and through repeated practice, has made it simple. Thank you, Anish!" -Perth, Western Australia
"Sessions with Concepts Coach helped me to excel in my course and take my accounting knowledge to another level. He made it so simple." – Kevin, Assignment help
Book Session:
1-on-1 live interactive sessions via Zoom that are designed as per your learning needs.
Assignment help:
Select this if you need assistance and guidance in completing your assignment. Sorry, but we won't write it on your behalf.
Concept Videos:
Short videos in HD format explaining basic topics in a simplified version. Buy the entire module and save it.
Accounting for Non-Accountants:
Fancy learning Basic Accounting in less than 90 minutes using a 52-card deck? If you are from a non-accounting background and want to learn the language of business in a fun, simple and quick yet effective way, this is it!: https://allevents.in/online/80002796108212
Happy learning and speak to you soon.
Anish Baheti
Coach | TEDx Speaker | Author
Concepts Coach - Founder Chartered Accountant & MBA (Accounting and Finance) - Sydney, (AUS)
TAE40110 Certificate IV in Training and Assessment (AUS)
Certified Life Coach (AUS)
Brain Mapping Practitioner (UK)
Email: hello@conceptscoach.com.au | Website: www.conceptscoach.com.au
Contact
Experience
Recent testimonials:
"Anish is a very inspiring person. He made teaching fun and easy to understand :) Highly recommend him to anyone who is looking for a tutor in his field." - Reviewed by Christina on 10th May 2022
"Anish was very thorough in his review and provided great recommendations on how my work could be improved. He went above and beyond and provided an additional session free of charge. I got 38.75/40 which is a tie for the highest grade in the class. I will certainly use his services again throughout my degree." - Harrisson on Assignment help
"Anish got back to me very quickly with my enquiry, and was extremely helpful in his session! He not only helped me with the many queries that I had, but he also evaluated what I had sent him even further, and helped me improve my work all round! He always made sure that I understood what he was teaching, and was very clear with his feedback. I'll absolutely be seeing him again!" - Luke
"Thank you for such a great experience. I never felt stressed and always felt supported. Your techniques used were easy to follow and I have no doubt I would have failed without you. I will be recommending you to my friends for sure" - Reviewed by Danielle
"I approached Anish as I was doing my first finance subject in my MBA. Coming from a health background, I had no insight into financial concepts, equations or calculations at all. Anish assured me from the first time we spoke that I would pass, no doubt about it. He displayed a very high level of passion for his work and a genuine interest in ensuring that he tutored me so I was able to pass. It was so easy, I found him on the internet, contacted him, he got back to me within 1/2 an hour, sent me some information and I was booked in! He has an absolute talent in taking complex concepts that span over 2-3 textbook chapters and summarizing them into a couple of key concepts, allowing a student like myself to breakdown and understand very complex concepts. I would recommend him to anyone and there is absolutely no question at all, that I would not have passed this subject if I had not have found Anish!!" - Kerrin - Working Professional (Online session)
"Anish was very flexible and able to review my assignment in short notice as well as schedule an online meeting for the next day. He really helped me understand the concepts I was struggling with. He is very good at simplifying accounting principles. Thanks for your assistance" - Jasmine
Just completed a tutoring session and Anish helped me grasp something I had been struggling with deeply. I feel more confident in my studies now. Thanks, Anish - Kristy
Sessions with Concepts Coach helped me to excel in my course and take my accounting knowledge to another level. He made it so simple. – Kevin, Assignment help
"Last minute panic lead me to desperately finding someone to help me. I found a tutor online and messaged them a few hours prior to the time my assignment was due, and Anish replied almost instantly. I was very overwhelmed and he was able to quickly find time to assist me. I was so relieved when he knew absolutely everything I didn't understand and he assured and supported me over my hour session. This was the best $75 spent and I will be contacting Anish again regarding my final exam. Such a reliable, calm, and supporting person! Wouldn't have been able to complete by assignment without him." - Nikita
"Anish is a great coach. He's able to quickly understand your necessity and doubts. In addition, he's pretty flexible, easy to work with, in special under a tight deadline. Anish clarified and guided me through my assignment just a few days before the due date. He has great knowledge and an easy and confident approach. No doubt that I highly recommend Anish" ~ Paula - Working Professional from New Zealand (Online session)
Prior to Anish's guidance, I was having trouble understanding some of the general accounting practices being taught to me at my university and was achieving sub-par results, however with his guidance and teaching I am now achieving an HD (80%+) average on my given tests and assignments. He teaches at a pace best befitting the student and is very thorough in helping his students achieve the best marks possible." - Josh
"Anish has helped me significantly improved my skills in accounting. Prior to meeting with Anish, I was struggling significantly with understanding the basic concepts of accounting. I have now improved significantly to the point that I have achieved my first High Distinction on my first assessment. Thank you!" - Jess, Business Owner (Online sessions)
"I really appreciate the assistance that Anish provided in the week before my exam. I was still very confused about 3 key areas in postgraduate level accounting, and with HUGE patience, Anish simplified and assisted me to understand these areas. I wish I found him sooner." - Trish (Online Session)
"Anish is a great coach, especially for someone whose background is not in finance and accounting like me. He is well prepared and presented which enables easy understanding of every question in detail." - Van (Online session)
"Very helpful as he paid complete attention to my learning needs. He uses a variety of approaches to make a student understand complex topics in a simple & easy to follow steps. Thank you, Anish" - Aaronna, Student (Online session)
"I highly recommend Anish, very intelligent, he explained things very clearly, helped me become more confident. I understood exactly what he was trying to say, I am grateful." - Luiz, Professional (Online session)
"I wish to thank you for your coaching to help me with the Chapters to date. You have provided me with some clear tips to help and I will now rely on your coaching and will certainly look to use you again for any coaching and/or analysis work that I may become aware of." - 2016 Business Women Awards (Australia) - Finalist
"Anish is very professional in analyzing a business. During our sessions, he contributed to many innovative ideas for writing my business report, which achieved a very high GPA." - Melissa, Professional (Online session)
"Mr. Baheti is one of the most considerate teachers I have come across in a long time. He understands and has exceptional grasps in the subjects he teaches which is an essential. Another is that he is a very patient person, never gets mad at being asked the same question over and over again which is a big plus for me." Nowroz, Student (Online session)
"Anish's accounting concepts coaching has played a significant role in my education. His approach is unique and elaborate compared to other tutors, utilising learning material he has produced himself. Anish has helped me to gain a strong conceptual understanding of university accounting, that textbooks do not provide." Samir - University Student
"Thank you for your session on the key financial reports. As there was no cost involved, I was a little unsure as to what information I'd receive. The fact that it was a webinar gave me the impetus to join in. The session was clear and concise and spelled out the elements in the financial statements in an easy to comprehend way. I'll be looking forward to further webinars. Congratulations on a well delivered and information packed session." - Carole on FREE webinar on 4 Key Financial Statement
"Anish has a wealth of experience in the world of accounting & finance. I found his coaching style insightful and very helpful. He is very supportive, has clear direction and always makes himself available. I would highly recommend him. Thanks Anish!" - Petrina Designer
"Anish provided great insight into the world of finance. His support and direction assisted me in my studies, which resulted in me getting equal dux in my unit for finance & legal strategies - he was a great help." - Simon, CEO (Online sessions)
"Anish is a first-class corporate accounting coach. He has a great ability to simplify complex problems and make many formulas appear straightforward. I highly recommend Anish to all postgraduate students." - Duncan - Professional
and many many more.....
Log on to the website link listed below and watch a 2 min introductory video to learn about all the help that is available to you.
Contact details:
Anish Baheti
hello@conceptscoach.com.au
www.conceptscoach.com.au
Skype: concepts.coach
Qualifications
MBA - Accounting & Finance - University of Technology, Sydney (AUS)
Chartered Accountant - (IND)
Certificate in Life Coaching - (AUS)
Certificate in TESOL & Business English - (USA)
Certificate IV in Training & Assessment (TAE40110) (AUS)
Certified Practitioner Brain Mapping - (UK)
Subjects taught:
Management Accounting
Company Accounting
Financial Accounting
Accounting For Decision Making
Corporate Accounting
Cost Management
Corporate Finance
Business Finance
International Finance
Financial Statement Analysis
Financial Management
Financial Maths
Financial Reporting
Managerial Finance
Company Law
International Finance
Accounting and Finance for Small Business Owners
Case studies and assignment help
CA CFA and CPA course material
Rates
Basic level: $55 per hour
Intermediate level: $70 per hour
Advance level: $85 per hour
CA-CPA-CFA level: $100 to $120 per hour
Please note if you come for specific questions or queries charges will be higher and you will be informed before we start.
Gender
Male
Registered
Joined Tutor Finder on 10-Aug-2008 (updated profile on 25-May-2022
)