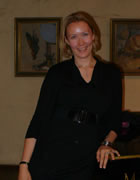 Melbourne tutor in Biology, Communication, Creative Writing,
English
,
English
Literature, ESL, Essay Writing, French, German, History, Maths, Psychology, Reading, Society and Culture, Sociology, Special Needs, French
My name is Anna and I offer tutoring in the following subjects: German (I am a native speaker of German), French and English at all levels, including help with writing essays. I also offer tuition in VCE English, English literature, Psychology and History. I achieved an ENTER score of 99.7 in my own VCE studies and have successfully coached several students to high VCE scores in their subjects.
I hold a Bachelor of Arts with Honours from LaTrobe university, double major: History and Advanced French. I graduated with First Class Honours in 2015 and was subsequently offered a PhD scholarship to undertake my doctoral studies at LaTrobe University. I have extensive teaching experience, having taught languages and tutored in various subjects for the past 15 years. I am a patient and committed teacher and I pass on valuable study skills whenever I tutor. I am currently undertaking a PhD candidature in History/Latin American Studies at LaTrobe University, Melbourne (expected PhD completion date December 2018).
I also offer English as a second language (ESL) and hold two TESOL certificates (120 hours of training). I hold a Working with Children Check and I have experience in working with special needs children, including children with dyslexia. I offer help with effective structuring of essay and I teach essay-writing skills for the humanities subjects.
Upon meeting a new student I first establish what the student's individual goals and needs are; I then tailor my approach to best advance the student towards his/her goals. I constantly re-evaluate with the student to make sure the learning experience is positive and encouraging a good relationship with the subject matter being studied. I believe that learning should be an exhilarating and overwhelmingly positive experience and that these qualities can be achieved through good communication between teacher and student and by allowing the individual student to get to know his/her inherent strengths.
Teaching is my passion and in my sessions I offer absolute focus on the student's needs and his/her advancement in their chosen field of study. I teach towards excellence and have prepared students successfully for IB and VCE exams as well as university exams in the past.
Contact
Experience
- Private tutoring in all the above subjects since leaving high school in 1998
- Employment by Language Schools and Tutoring Companies:
2010-2013: Working as a language tutor in 3 language schools in Bonn, Germany,
during several extended visits to Germany each year from 2010-2013 (Step-Up
Sprachschule, Bonn-Beuel, Germany & Lernstudio Barbarossa, Bonn-Beuel,
Germany, Inlingua Sprachschule, Bonn)
- 2012: Work for the Melbourne branch of "Tutoring for Excellence". I left the
company as I was going overseas mid-2012
- 2014 - 2015: - Work for Melbourne German language schools "all about German"
and "the Germanz"
- Teacher for the German Saturday School Melbourne, Clifton Hill, with a class of 9
Prep/Grade 1 level students (Grade 2/3 from Term 1, 2015)
- 2014 - ongoing: CTA (Clinical Teaching Associate) for the Department of Medical
Education, Melbourne University
- 2015: Taught the full IB AbInitio curriculum as subcontractor teacher for
one German Year 11 Student at the Sophia Mundi Steiner School in Abbotsford,
Melbourne; This included curriculum development, assignment and exam setting and
report writing in consultation with the school's director of studies;
- 2014 - ongoing: Coordinator of the Internship program in the Institute of Latin
American Studies at LaTrobe University, Melbourne; this program has given me
valuable leadership and team building skills;
- - 2017: Academic Tutor for "Globalisation and Development" course, History Department, LaTrobe University
Qualifications
- VCE, ENTER score 99.7
- Bachelor of Arts with Honours, LaTrobe University, double major History, French;
electives in the English department: English (Writing Fiction, Jung's Cultural
Psychology); 2 semesters of my Bachelor of Arts were done in Bonn, Germany, on
"exchange" to my home country; Subjects done in Germany included: "Working with
archives", Ancient Greek history, 1st World War history, French Grammar, French
Cultural History; All marks achieved in my Bachelor subjects were level "A" (high
distinction);
- My Honour's year studies involved both the History and the Latin American studies
stream at LaTrobe University; my honours thesis was an analysis of the political,
economic and social relationship between the United States and Puerto Rico;
- 2016 Winner of the 'John Salmond Prize for Historical Narrative - awarded to the
fourth year honours History student for the most outstanding piece of historical
narrative work' at LaTrobe University, Melbourne
- 120 Hours of TESOL (English-as-a-Second-Language) training through i-to-i TEFL
- Mental Health First Aid course completed in 2014, to help with assessing distressed
students' needs
- 10 hours of training in "language immersion teaching" completed at Inlingua Bonn,
Germany (in 2013)
- CTA communication skills training sessions (Module 1 through to Module 3)
completed at Melbourne University
Medical School
(2014 & 2015)
- Translation training workshop (6 hours) completed at NAATI, Melbourne,
September 2014, (German-English, English-German), in preparation for professional
translator's accreditation
- Ongoing Professional Development undertaken for my role as teacher at a
Community Language School (German Saturday School), such as attending the
annual Victorian Community Language Schools teachers' conference
- 2017: Academic Tutor for "Globalisation and Development" course, History Department, LaTrobe University
Rates
$70 per hour
Gender
Female
Registered
Joined Tutor Finder on 12-Jan-2012 (updated profile on 27-Dec-2017
)