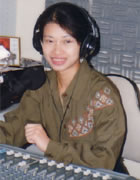 Sydney tutor in Japanese, Mandarin, Cantonese, Japanese Extension (HSC), (NSW Qualified Teacher)
Service areas
Sydney
(4 student reviews)
I have been tutoring in Sydney for all levels and age groups in both Japanese and Chinese since 1997.
I was chosen as the interpreter for the Asian Games 1994 in Hiroshima - Japan.
I'm anchorwoman at 2CR China Radio Network P/L since - 1997-current.
Most HSC students I've taught achieved 90 and above in the HSC (given they did not start tutoring at the last minute).
I also have a degree from UNSW for language teaching.
Before I came to Australia, I lived in Japan (Hiroshima) for 6 years. There I taught Chinese (Mandarin & Cantonese) at the Japanese Foundation YMCA.
For school and university students, I will also assist with homework, assessments, preparation for examinations and assist with all other related issues.
I'm a firm believer that pronunciation accuracy in communicative language learning is most important, therefore I focus heavily on pronunciation.
I teach all areas including listening, reading, speaking and writing.
During the 1994 Asian Games in Hiroshima Japan, I provided translation services for the athletes coming from China and Taiwan. Also in Japan I've trained many people in Chinese conversation, culture and customs, including executives from NKK (NihonKouKan) to prepare them for new assignments in China.
I also prepare those who are hoping to participate in the " Japanese-Language Proficiency Test". This examination has 5 levels of difficulty. The certificate is internationally recognized and I highly recommend anyone studying Japanese to attempt the proficiency test as it will be highly beneficial for work or study in Japan.
HSC results
Amy Zhu (Sydney Girls High School) 2016
Japanese continuers 99/100, extension 49/50. Passed 2016 JLPT N2.
NOTICE:
* Due to work, my phone is often switched off. Please contact by "EMAIL" or "SMS"
Times available: Monday - Sunday: 11:30am - 7:00pm
Class LOCATION: Sussex Street, Sydney 2000 (Near TOWN HALL station)
Contact
Experience
20 Years Teaching Japanese and Chinese in Australia/ NSW.
Interpreter/translator for Asian Games 1994 in Hiroshima - Japan
Taught Chinese (Mandarin & Cantonese) at the Japanese Foundation YMCA - Japan/ Hiroshima
Qualifications
University of New South Wales
(Certificate in Communicative Language Teaching)
Japanese- Language Proficiency examination
(Level 1 Highest level) by the Association of
International Education,
Japan and the Japan Foundation.
­华南师范大学 ¦ (SCNU); South China Normal University
(Degree in Japanese - Teaching)
Rates
Tuition Term Fee (10 lessons):
* For Y7-10 (one to one): $35-1hr/ $50-1.5hr / $65-2hr
* For 2-3 students: $30-1hr / $45-1.5hr / $55-2hr (p.p)
* For Y11-Y12, university and Adults (one to one): $40-1hr / $60-1.5hr / $80-2hr
* For 2-3 students: $35- 1hr / $50-1.5hr / $60- 2hr (p.p)
Gender
Female
Registered
Joined Tutor Finder on 31-Mar-2007 (updated profile on 29-Aug-2019
)