CPA-CFA L2 | 11+yrs & 5K+students | 24+ reviews on TutorFinder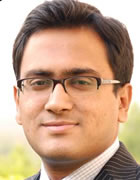 Online tutor in Finance, Accounting, CPA-CA, Accountant, Business Studies, Management
(24 student reviews)
Read my reviews to understand the quality of work I provide. You only need to pay 50% in advance (to book my time). Pay 50% after work is done and once you are satisfied with the quality of the output. I only take up those engagements in which I am 100% confident of providing top quality output because I understand how top grade stays with a student for her/ his lifetime.
>>I specialize and teach/help in Finance, Accounting (Managerial/ Financial/Cost) and Investment subjects only.
>>I am a CA, CFA Level II with over 10 years of professional work experience in various fields of Finance, Accounting and Investment.
>>Students who I have tutored/ helped, have consistently achieved grades of A or higher and I have experience of teaching over 5000 students over a period of 11 years.
>>My Motto is "Students Success".
>>My students are based in Australia, USA, UK, Canada, UAE and India.
>>Lessons are customized with examples easy to understand for students with various levels of proficiency in a particular subject. If you are not satisfied with the tutoring, you will receive 100% Refund.
>>I can teach students who are currently in High School, Senior High School, Under-graduate, Post-graduate or is studying in a University.
>>I am an online tutor only and do not provide in-person tutoring.
>>Open with both Watsapp and/or Email as modes of communication.
Contact
Experience
Experience of teaching over 5000 students online over the past 11 years.
My students are based in Australia, USA, UK, Canada, UAE, India, Germany, Netherlands, Spain, Saudi Arabia, Kuwait, Syria, Oman, Qatar and are present all over the world.
Qualifications
Chartered Accountant of India (All India Rank Holder in CA Exams), CFA Level II and Bachelor in Commerce from Asia's No1 Commerce College.
Over 11 years experience of helping students via online medium.
Over 10 years of professional working experience with multi-national companies such as Amazon, EY, PwC, Xander and Makemytrip
Linkedin profile link "linkedin.com/in/anupsinghania/"
Rates
$80 is a placeholder fees. Fees will completely depend upon level and complexity involved in an engagement.
Assignment Guidance - Fees will be discussed at the start of the engagement.
For both Assignment Guidance and Online Tutoring, fees will be refunded if the student is not happy/ satisfied with the progress.
Please feel free to reach out to me for an exploratory discussion.
Gender
Male
Registered
Joined Tutor Finder on 26-Apr-2020 (updated profile on 25-Sep-2021
)