Transform Tutoring Service - We Create "A" Student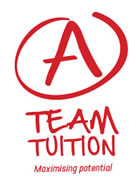 Brisbane tutor in Accounting, Biology, Business Studies, Chemistry, Communication, Computing, Creative Writing, Economics, Engineering, English, ESL, Essay Writing, Finance, Geography, History, Industrial Technology, Journalism, Legal Studies, Management, Maths, Media Studies, Philosophy, Physics, Physiology, Politics, Psychology, Reading, Society and Culture, Special Needs, Statistics
(57 student reviews)
A Team Tuition is the first educational branch in history to develop a complete program specifically designed to help transform and support ordinary students into becoming A standard students. Our philosophy is that any students, anywhere, can achieve A's with the right mindset, support, and strategies. To do this, we have created a new form of tutoring called Academic Personal Training. Like Personal Training, Academic Personal Training focuses on developing a specific skillset and mindset, to allow them to mimic a student at the peak of their performance. Our Creating A Students program does not create extra work for a student, but rather teaches them the lifestyle and habits of an A standard student, and teaches our clients how to become such a student throughout all aspects of school and life.
Training students to help pursue their dreams and reach their goals is what we do. It is our greatest passion, and we are proud to help students achieve what many say is impossible. Currently, 87% of our students are A/B standard students, and countless more have experienced radical transformation in their lives.
We currently operate on the Gold Coast and in Brisbane. We specialise in Maths, English and Science tuition across Primary, Secondary and Tertiary education fields, but we tutor an entire range of other subjects. As a part of a student adopting our program into their personal lives, we come to your house or any other comfortable environment for the tutoring sessions. Our hourly rate is a standard $70 per hour including GST, with discount packages available. There are no other hidden costs, legal contracts or any other fees. We have a completely client-centric approach to tuition, and consistently help optimize our service by regularly training our staff, releasing helpful blogs and articles, and always working with our students' parents to help all parties succeed!
Are you an YEAR 10, 11, 12 or UNIVERSITY LEVEL CHEMISTRY, BIOLOGY OR PHYSICS STUDENT and currently have a Research Report or EEI Assignment Due Soon? Check out our Writing A+ EEI's and Research Reports Manual, and allow yourself the opportunity to achieve A grades on it! Click onto the link below for more information on this revolutionary product that every student is talking about!
www.ateamtuition.com/writing-eeis-and-research-reports/
Phone: 07 3154 6180
Email: info@ateamtuition.com
For more information on either our tutoring services or range of products visit www.ateamtuition.com.
Contact
Experience
A Team Tuition was originally formed by Hayden McEvoy out of his own experience in tutoring students of all ages. Originally diagnosed with ADD, Hayden initially found school incredibly difficult; to combat this, he developed the Creating A Students program, which gives students specific guidelines that will help them become typical A standard students. Ignited with a passion to transform Australian education, Hayden began A Team Tuition in 2012; the company now has expanded from the Gold Coast into Brisbane, and has over 100 tutors. The lives of countless students have been changed - you could be the next one!
Qualifications
All of our tutors are currently studying in the Education, Engineering, Medical or Law
fields at university and are regularly trained through workshops A Team Tuition runs. These workshops
are designed upon literature found in Education Journals in relation to the superior methods
of teaching. It is a prerequisite for all our tutors to have up to date Blue Cards.
Rates
Our hourly rate includes GST. There are no other hidden costs, legal contracts or any
other fees. We keep our clientele via optimising our performance and providing the
best, possible service you will find within the Australian tuition industry.
Student Discount
Special Offer - Discounted package tutoring hours
Registered
Joined Tutor Finder on 05-Jan-2014 (updated profile on 14-Jun-2019
)