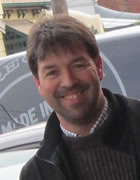 Melbourne Tutor in Algebra, Biochemistry, Biology, Business Studies, Calculus, Chemistry, Computing, Creative Writing, Dutch, Economics, Engineering,...
(see below for full list of subjects and levels)
Hi, my name is Bernhard Henger, I immigrated from Germany to Australia in 2014, as my wife is Australian. I am fluent in German, English, French and Dutch; I also speak some Spanish, Italian and Russian; In addition I have done extensive Latin studies during my schooling.
By profession I am an Agricultural Engineer and I hold the German equivalent of a Master's Degree in Agricultural Sciences. A degree in Agricultural Sciences includes the areas of Maths, Statistics, applied Physics, Biology, Microbiology and Phytomedicine, among other areas of science. I had a long stint working as an agricultural insurance consultant and loss adjuster (10 years) in my home country up until my emmigration to Australia and I am now self-employed as a tutor as well in an artisan craft partnership, based in Greensborough in Melbourne's north-east.
I have been tutoring maths and general science, as well as English and German for foreigners for the past few years and have received good feedback about my teaching style, which has been described as calm, reassuring and motivating. I teach both science and language subjects.
Part of my work as an agricultural insurance consultant/loss adjuster in Germany was also based in Belgium and the Netherlands, so I had the chance of bringing my French and Dutch language ability up to fluent levels. Teaching languages is always a wonderful experience for me as I am able to assist my students in broadening their cultural awareness as they expand their language abilities.
Subjects
Algebra -

Primary, Secondary

Biochemistry -

Secondary

Biology -

Primary, Secondary

Business Studies -

Secondary

Calculus -

Primary

Chemistry -

Secondary

Computing -

Secondary

Creative Writing -

Primary, Secondary

Dutch -

Introduction, Intermediate, Advanced

Economics -

Secondary

Engineering -

Secondary

English -

Primary, Secondary

English Literature -

Primary

ESL -

Primary

Essay Writing -

Primary

Finance -

Secondary

French -

Introduction, Intermediate, Advanced

General Science -

Primary, Secondary

Geography -

Primary, Secondary, Tertiary

German -

Introduction, Intermediate, Advanced

History -

Primary, Secondary, Tertiary

Human Biology -

Primary, Secondary

Italian -

Introduction, Intermediate

Latin -

Introduction, Intermediate, Advanced

Management -

Secondary

Maths -

Primary, Secondary

Microbiology -

Secondary

Philosophy -

Secondary, Tertiary

Physics -

Secondary

Politics -

Secondary, Tertiary

Reading -

Primary

Russian -

Introduction, Intermediate

Society and Culture -

Secondary, Tertiary

Spanish -

Introduction

Special Needs -

Primary, Secondary

Statistics -

Secondary
Experience
- Private tutoring in Science and Language subjects in Bonn, Germany as well as in Melbourne,
Australia
- Assistant at German Saturday School Melbourne, Clifton Hill, 2015
- 15 years work experience in Germany; my last long-term occupation before I
immigrated to Australia was the role of insurance loss adjustor and sales representative
at a German agricultural insurance company (2003 - 2014)
- July 2016 - ongoing: German language teacher at the Temple Society Melbourne
Community Language School, Bayswater branch, teaching courses with groups of children, age range 8 - 15 years old
- January 2017 - ongoing - acting manager at "Language Matters" language school, Melbourne
Melbourne
- 2017 - ongoing: Language Assistance/German conversation trainer at Carey Baptist Grammar school, Kew, Melbourne
Qualifications
- German "Abitur" - equivalent to "VCE" in Victoria
- Dairy Farming Practical Qualification (2-year Apprenticeship)
- Master of Agricultural Sciences from the University of Bonn, Germany (Diplom Agrar-
Ingenieur)
- French and Dutch Language certificates
- Working with Children Check
Services
Private Tuition
Group Tuition
Teaching Tuition
Home Visits
Phone Help
Online Help
Rates
$70 per hour
Gender
Male
Updated
Profile last updated on 21-Dec-2017
(registered 03-Dec-2014)
Contact