Innovative, Dedicated and Highly Experienced Teacher to All Levels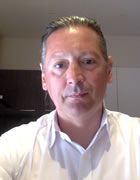 Melbourne tutor in English, Essay Writing, Geography, History, Society and Culture, Sociology, Statistics, Media, at secondary and tertiary levels Media and Communication, also secondary and tertiary
(3 student reviews)
Teaching has always been a passion for me, whether privately or in groups, in homes or in the classroom. With over 25 years experience teaching English, History, Media and Communication, Sociology (including statistics), and a range of other humanities subjects. I have developed a style that creates an easy, comfortable learning environment for students of all kinds. I have taught successfully at all levels, from Year Seven to University, from local to international ESL students (I also lived and taught for two years in China). I am fully registered with the Victorian Institute of Teaching (VIT). I find teaching the most rewarding of professions, and take great pride in watching students succeed as a result of my work. After an initial consultation, lessons are student-centred, designed to address their greatest needs, using a variety of investigative and problem solving learning techniques. I am available by appointment at any time.
Contact
Experience
Private tutoring at all levels since 1989: in the last two years, for example, I have
tutored History (Revolutions: Chinese, French, American and Russian) and English (all "Context" study areas and a large variety of texts) to a range of Year Twelve students. I have also co-supervised a Ph.D. student in Sociology to successful completion of her thesis.
Teaching Experience:
(2012) Deakin University: Sociology of the Media and Popular Culture
(2009 - 2011) Deakin University: Lecturer in Media and Communication
(2006 - 2008) Deakin University: Tutor in Media / Comm., Sociology and History
(2006) Wheelers Hill Secondary College: English (years 10 - 12)
(2005) Rowville Secondary College: English, SOSE, Media, IT (years 7 - 12)
(2003 - 2004) Guangdong Commercial College (China): English (ESL)
(2001 - 2002) Macquarie Boys' Technology High School (Sydney): English,
History, IT, Year Level Co-ordinator to Year Nine
(2000) Zhongshan (Sun Yat-Sen) University (China): English (ESL) teacher
(1996 - 1999) Casual relief positions at several high schools in Perth, including a
part-time English role at City Beach Senior High School.
Qualifications
(1988 - 1991) Bachelor of Arts (Hons). University of Melbourne. Majors in English
and History
(1992 - 1993) Graduate Diploma in Education. University of Melbourne. Teaching
Methods in English and History
(1994 - 1995) Master of Arts. Monash University. Cultural Studies.
(1996 - 2000) Ph.D. Deakin University. Sociology.
Rates
$90 per hour
Gender
Male
Registered
Joined Tutor Finder on 02-Oct-2012 (updated profile on 13-Jan-2022
)