Creativity, curiosity, & results with a med student!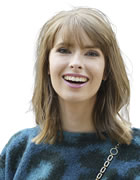 Melbourne tutor in French, Essay Writing, English, Chemistry, Physiology, General Science, Study Skills, Anatomy, Communication, Creative Writing, GAMSAT, Health Studies, Maths, Medical Interviews, ATS1001, ATS1002, PHY2011, PHY2032, PHY2042, PHY3181, PHY3171, PHY3102, PHY3072, ATS2063, ATS2064, ATS1061, ATS1062, ATS1191, French
Well, bonjour! I'm thrilled to introduce myself to you—my name is Christie! I'm a medicine student at the University of Melbourne and professional science communicator. This means that I love turning tricky, and sometimes boring concepts, into stuff that's fun, engaging, and relatable (and it also means that I deeply understand the importance of communicating clearly!). So, whether it's French, English, science, essay writing, or something else... I'd be super delighted to be able to help you.
FRENCH
IB French? No problems. VCE French? Let's do it! I have a deep understanding of both curriculums (I completed IB SL French with a score of 7) and have Diploma of Languages in French from the University of Melbourne. My aim is to turn language learning from a chore into something that you actively look forward to. We do exercises, fun creative projects, and can focus on the reading, writing, and speaking. Want a Parisian accent? We can totally achieve that too. French is easy when you know the right tips and tricks—and I can share them with you!
I've lived in the land of cheese and pastries itself—Paris!—where I au paired for two French children, worked for a marketing agency (in French and English) and taught French to other expats. In Melbourne, I teach primary school, high school, university students, and adults learning for work or leisure. And truly, we do it all: grammar, conversation, reading comprehension, and accent work as well. My lessons are interactive, engaging, and fun, and are primarily over Zoom :-)
ENGLISH
Words are a powerful thing—so let's master them together! I can help you to develop confidence with essay writing, persuasive writing, and grammar. Writing should be enjoyable and an opportunity to express yourself. I can also proofread and provide editing services.
SCIENCE
My bread and butter! I've loved working as a science communicator, where I take tricky and boring concepts and turn them into something meaningful. Science is ALL about making a story, making links, and finding ways to make it click for you. I have a degree in Physiology & Developmental Biology, Honours in Biomedicine, and currently study Medicine. If you want to explore and understand science the fun way... I can help you!
So, I'd love to have a chat with you and see how we can work together to reach your academic goals. Shall we get started? Get in touch today and we can have a chat. I can't wait to meet you!
Contact
Experience
I have been delighted to tutor students in French and English since 2014, both in Melbourne and in France. I know the difference firsthand that a wonderful tutor can make, and I'd love to be able to do the same for you! I have tutored children from as young as 5 up to students at university level. I am exceptionally passionate about learning languages (it's my 'spare time' hobby!) and science. I enjoy explaining concepts creatively and making sure that things 'click' with you!
Qualifications
FORMAL QUALIFICATIONS
• Doctor of Medicine — University of Melbourne (current student)
• Diploma of Languages (French) — University of Melbourne
• Bachelor of Biomedicine (Honours) (First Class) — University of Melbourne
• Bachelor of Science (Physiology, Developmental Biology) — Monash University (High Distinction average)
• Bachelor of Science (Psychology) — University of Melbourne
• International Baccalaureate (ATAR 99.35)
Rates
$80 per hour
Working With Children Check
Yes, I'm cleared to work with children in Victoria until 18-Feb-2025 (details available on request)
Gender
Female
Registered
Joined Tutor Finder on 11-Dec-2019 (updated profile on 17-May-2022
)