Online lessons with a qualified teacher focused on delivering results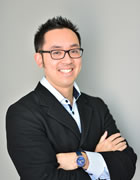 Sydney tutor in Algebra, Calculus, Chemistry, Creative Writing, EAL, English, Essay Writing, Further Maths, Maths, Maths Methods, Physics, Statistics
(14 student reviews)
ATAR: 99.20 (2011) 
Premier's All Rounder Award (2011)
Bachelor of Education/Science (Math with Distinction)
Fully qualified and working High School Math Teacher
Website:https://phoenixeducation.co/
Location: 605/11-15 Deane Street Burwood
EXAMPLES OF MY TEACHING, TOPIC: FUNCTIONS (ONLINE LESSONS AVAILABLE)
Sketching Graphs + Domain and Range
https://www.youtube.com/watch?v=yowZOLXMIvI&t=200s
https://www.youtube.com/watch?v=krZGt2eOpAc
https://www.youtube.com/watch?v=okJnxeItUO0&t=369s
Piecemeal Function
https://www.youtube.com/watch?v=y5XAnkW0Qd4&t=180s
https://www.youtube.com/watch?v=pOPmEiS-2e8&t=503s
Harder Graph Question
https://www.youtube.com/watch?v=FJJq4ldnSI8
TEACHING PHILOSOPHY
Hi my name is Quan, I have worked in the tutoring industry for over 10 years and believe in it's effectiveness in filling knowledge and skill gaps in students who are falling behind at school or need that extra push and motivation to strive for academic excellence. As such, I operate a coaching college called Phoenix Education and manage a team of hand picked and dedicated tutors to assist students from Year 1-12 in all subjects disciplines. The key difference between our college and others is that education here is delivered within a small supportive class environment, allowing for more individualised support and building on the student's current level rather than at some arbitrary pace. This enables our students to reach their full potential while fostering lifelong qualities such as confidence, resilience and perseverance.
WHAT I CAN OFFER?
I personally teach the majority of the high school Math classes up to Extension 2. Unlike other tutors, I possess university training in educational pedagogy as well as Mathematical knowledge up to University level. With this knowledge I am able to explain complicated concepts in the most simplistic way and support them with examples to reinforce understanding and learning. My students benefit from after class support as well as access to a vast range of materials including "personal notes, exam papers, revision materials" I have gathered over the years. In addition I provide tips and exam techniques which will translate learning and understanding to top marks at school.
Some of my current and past students are/were from top selective schools including James Ruse, North Sydney Girls, North Sydney Boys, Sydney Girls, SCEGGS, Newington, St George Girls, Sydney Tech, Tempe, Fort Street as well as comprehensive high schools around the area such as Strathfield Girls, Burwood Girls, Ashfield Boys, Homebush Boys.
I also offer services in Primary Tuition for Math and English as I believe fundamental literacy, numeracy and problem solving skills and knowledge gathered by students at this age pave the path to academic success in high school.
SERVICES
HIGH SCHOOL: MATH (YR7-YR12 EXT2), ENGLISH (YR7-12 EXT2), SCIENCE (PHYSICS/CHEMISTRY/BIOLOGY)
PRIMARY SCHOOL: MATH, ENGLISH, WRITING
SPECIAL EXAM: SELECTIVE, OPPORTUNITY CLASS, NAPLAN
Contact
Experience
Worked in Private Colleges for over 9 years, teaching over 500 students.
Working as a high school teacher in a public high school.
Qualifications
Bachelor of Education/Science (Math with Distinction)
Graduated from Sydney Technical High School
ATAR: 99.20 (2011)
Premier's All Rounder Award (2011)
Teacher Education Scholarship
Sydney Catholic School's Intern Recipient
Rates
Classes (capped at 6 students)
$25/hr for Year 1-10
$30/hr for Year 11-12
Private Lessons (no free trial)
$45/hr for private group (2 students minimum)
$65/hr for 1 on 1 private lesson
Inquires for private classes and group lessons can be made over the phone.
Student Discount
Special Offer - First Trial Lesson Free
Working With Children Check
Yes, I'm cleared to work with children in New South Wales until 23-Dec-2024 (details available on request)
Registered
Joined Tutor Finder on 19-May-2018 (updated profile on 11-Aug-2020
)