VIT Registered school teachers!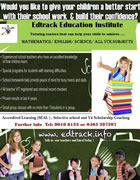 Melbourne tutor in Maths, Accounting, English, Chemistry, Biology, Further Maths, Maths Methods, General Science, Physics, Business Studies, Calculus, Management, EAL, Legal Studies, Health Studies, Creative Writing, English Literature, ESL, Algebra, Essay Writing, Geometry, History, IELTS, Physical Education, Politics, Psychology, Reading, Statistics, TOEFL
We travel to these locations
All areas in Australia
(3 student reviews)
#####Term 1, tutoring sessions for 2022! Call us on 03 9010 6133 or 0405 297 297 to enrol your child! ####
Edtrack Education Institute is an Australian Tutor service run by experienced School teachers who currently work at local government schools and private schools around Australia.
We provide a range of English, Maths, Science programs for primary, secondary, VCE, HSC and International Baccalaureate(IB) Diploma students, TAFE and University Level. ( See the Google reviews )
#####Due to the COVID-19 pandemic and School closure, and social distancing measures, some programs are operating online Around Australia now.#####
We are specialising in Y8 Selective School Exam coaching, Y6 Scholarship.
We also help adults with maths skills, Nursing and Police exam preparation, company, cooperate maths lessons.......
Our educators;
- Help students to understand the subject and build their confidence
- school homework help
- One -on -one tuition or group tutoring
- Selective school test, SEAL test, Scholarship test, NAPLAN test preparation
- VCE subjects help with guidance for higher study scores (ATAR) (including -TAFE and University Coursework help)
Our programs have been established in alignment with the Victorian Curriculum and Australian Curriculum. Our teachers are experienced Primary school and Secondary school teachers and have developed exciting coaching methods for the talented students to the weak students.
Visit our web at www.edtrack.info or call us at 0405297297 or 03 90106133 for tutoring.
Contact
Experience
1.Over 15 years Victorian school teaching experience and Primary- VCE expert
teachers.
2. Current University Lectures who has VIT registration and authorise to teach Primary and Secondary students
Qualifications
1.Victoria Institute of Teaching registered graduated school teachers who are working
for private and government schools in Victoria.
2. Lectures who gained PHD in Maths/Physics/Chemistry/Biology....
Rates
#Group classes(Max.6 students only)#
=========================
Primary from $35 ph (Maths & English online 2 Hrs $60)
Secondary from $35 ph ( Maths & English online 2 Hrs $60)
year 10 from $40 ph Advanced maths students (Maths & English online 2 Hrs $60)
VCE year 11-12 from $50ph
#One-on-One#
==========
Primary/Secondary
from $50ph
VCE
from $50ph
TAFE,University -#one-on-one#
=========
From $60Ph
IELTS from $60ph
Student Discount
Special Offer - first two session 25% off valid until 15th OCT !
Registered
Joined Tutor Finder on 14-Dec-2010 (updated profile on 15-Jan-2022
)