Experienced VCE Biology Examiner & Qualified Maths/Science Teacher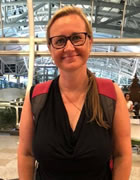 Melbourne tutor in Biology, Maths, Microbiology
Service areas
ONLINE ONLY
(1 student review)
Currently taking students for school holiday individual Biology intensives (Christmas Holidays 2023/2024.) For those students accelerating straight to year 12 Biology, one on one sessions are available. I am still taking students for 2024, although spots are filling up fast. (If you email me and don't hear back, check your spam folder.) I only offer online classes.
**BIOLOGY**
I have participated in VCE exam marking so I know exactly what the exam markers are looking for and I can help students learn how to read and interpret exam questions as well as read and interpret examiners reports. I can work with students to develop model answers to commonly asked questions for exams. My past tutoring student have received raw scores of 40 - 48 consistently.
I am a qualified teacher with twelve years in the classroom and nine years experience teaching VCE Biology. I have a comprehensive understanding of the content and understand the new study design for 2022. There are also topic tests, and practice SACs available. I have participated in academic research in conjunction with ACU to design and deliver specific teaching to enhance the scientific writing of students from EAL backgrounds. This has enabled me to support the writing of the Scientific Poster and offer students feedback on how to get the best results from this assessment task.
**MATHS & LITERACY***
I am a Numeracy & Literacy expert and have a qualification in functional linguistics that underpins all of my teaching. This means I can support students with learning difficulties because I can use a multi modal approach to engage and support their learning.
I teach year 7 - 9 Maths. I have an excellent understanding of the mathematics scope and sequence and can usually identify why a child isn't progressing in Maths after one session. I can design interventions to improve outcomes.
I have worked with many students who have ADHD, Autism, Dyslexia, Anxiety and Behavioural issues. I form excellent relationships with these students through talking to them about their learning and trying to understand why they don't like or excel at maths. Because I am primary trained, I can often get to the root of the problem by identifying gaps in learning from earlier years.
Contact
Experience
I am currently employed as a Secondary Teacher. I teach VCE Biology
I am a Literacy and Numeracy Expert in my school.
I tutor VCE Biology
I tutor year 7 - 9 Maths
Qualifications
I am a qualified teacher from Prep - 12.
I have taught mathematics and general science from year 7 - 10 and VCE Biology.
Rates
$62 per hour
Gender
Female
Registered
Joined Tutor Finder on 13-Oct-2016 (updated profile on 03-Dec-2023
)