Qualified VCE Biology Teacher, Literacy, Numeracy & Maths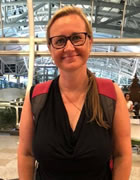 Melbourne tutor in Biology, Maths, Microbiology
**BIOLOGY**
I am a qualified teacher with six years experience teaching VCE Biology. I have a comprehensive understanding of the content and I create a google classroom with PowerPoint presentations for all of my students to access. There are also topic tests, and practice SACs available. I have participated in academic research in conjunction with ACU to design and deliver specific teaching to enhance the scientific writing of students from EAL backgrounds. This has enabled me to create a comprehensive proforma to support the writing of the Scientific Poster and offer students support and feedback on how to get the best results from this assessment task.
I have participated in VCE exam marking so I know exactly what the exam markers are looking for and I can help students learn how to read and interpret exam questions.
**MATHS & LITERACY**
I am a Numeracy & Literacy expert and have a qualification in functional linguistics that underpins all of my teaching. This means I can support students with learning difficulties because I can use a multi modal approach to engage and support their learning.
I teach year 7 - 9 Maths and can work with Primary aged children as well as Secondary students in mathematics. I have an excellent understanding of the mathematics scope and sequence and can usually identify why a child isn't progressing in Maths after one session. I can design interventions to improve outcomes.
I have worked with many students who have ADHD, Autism, Dyslexia, Anxiety and Behavioural issues. I form excellent relationships with these students through playing Maths & literacy games and as the relationship progresses the learning sessions get longer with less games and more work.
Contact
Experience
I am currently employed as a Secondary Teacher. I teach VCE Biology and Maths from year 7 - 9.
I am a Literacy and Numeracy Expert in my school.
I tutor VCE Biology, Primary School Literacy & Maths and 7 - 10 Science.
Qualifications
I am a qualified teacher from Prep - 12.
I have taught mathematics and general science from year 7 - 10 and VCE Biology.
Rates
$45 per hour
Gender
Female
Registered
Joined Tutor Finder on 13-Oct-2016 (updated profile on 26-Sep-2020
)