STUDENT TAILORED LESSONS FOR YEAR 11 AND 12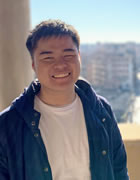 Sydney tutor in Chemistry, Maths, Physics, Algebra, Anatomy, Biochemistry, Biology, Calculus, Further Maths, General Science, Geometry, Health Studies, Human Biology, Maths Methods, Microbiology, Statistics
I travel to these locations
University, Library, Home, Blacktown, Parramatta, Merrylands, Seven Hills
Hi I'm Jake and I've been part of the tutoring business for over 5 years (both privately and a part of a tutoring company). I have taught countless students throughout their final high school years and understand what students need for their HSC.
I achieved an ATAR of 97 and graduated in the class of 2016 from Girraween High School (top 20 in NSW).
I currently offer tutoring services for: Year 11 Preliminary Chemistry, Physics, Mathematics (General, 2U, 3U)
Year 12 HSC Chemistry, Physics, Mathematics (General, 2U, 3U, 4U)
What I offer is not limited to:
- Detailed notes to a Band 6 Standard - Response development & strengthening - Content fixing & maintenance - Questions marked to a HSC standard
- HSC sample responses (reviewed by at least two HSC markers)
My rates are $45 per hour for one on one (Negotiable). If you plan to join as a group the rates are to be discussed depending on the size of the group. Class times vary from 1.5 hours to 2 hours depending on the student.
Should you have any questions please do not hesitate and contact me (via email preferably)
Contact
Experience
I have taught privately one-on-one, groups & in tutoring companies for 5+ years. I have tutored students from many different school settings/backgrounds (selective, ESL background)
All students have achieved significant improvements in their ranks and exam marks
Qualifications
2016 ATAR: 97
Rates
Initial Lesson: $50 per hour (due to understanding student ability and what learning modalities are required)
Travel fee depending on location.
Negotiable prices upon class size and/or subjects selected
Student Discount
Special Offer - Discounts if referrals made
Working With Children Check
Yes, I'm cleared to work with children in New South Wales until 15-Oct-2025 (details available on request)
Gender
Male
Registered
Joined Tutor Finder on 20-Aug-2018 (updated profile on 29-Oct-2020
)