Expert ATAR YR 11 and 12 Chemistry & Human Biology (10 years of Ex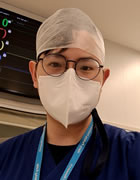 Perth tutor in Anatomy, Biochemistry, Biology, Chemistry, General Science, Health Studies, Human Biology, Maths, Maths Methods, Medicine, Microbiology, ATAR Chemistry ATAR Human Biology ATAR Maths Methods
I travel to these locations
South Guildford, Midland, Cockburn
(8 student reviews)
Hi, I am a PhD (Medicine) Candidate at the University of Western Australia with two master's degrees MCP & MP and a Bsc degree. I am also an active tutor at UWA teaching 3rd-year Doctor of Dental Medicine and Podiatric Medical Students.
I am offering tuition for yr 11 & 12 ATAR Chemistry and Human Biology.
I have been tutoring for ten years and many of my students have improved their scores remarkably well past few years. All my current year 12 ATAR students are achieving 80s to high 90s on average. Recently, one of my students got accepted into UWA medical school MD (2022) and many others achieved their goals (getting into uni & major they've wished). I have all the notes and past exam papers sorted and organised very well (updated 2022). I can give you a clear guide, leading you to success on these subjects with my past experiences and shortcut methods. I strongly welcome those students who are enthusiastic and determined.
Extra Note: Due to COVID, online tutoring via Zoom is also available. I have a very nice online teaching set-up available with professional gear (similar to Khan Academy).
Any queries, please contact via phone.
Thanks, Jun
Contact
Experience
YR 11 & 12 ATAR CHEMISTRY, HUMAN BIOLOGY and MATHS
Qualifications
The University of Western Australia - PhD in Medicine (In progress), MCP, MP, BSc
Rates
$75/hr
Gender
Male
Registered
Joined Tutor Finder on 16-Dec-2013 (updated profile on 27-May-2022
)