Very Experienced Bilingual French Tutor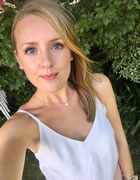 Melbourne tutor in French
Bonjour! I am a bilingual and experienced French tutor with over 7 years of experience across primary, secondary and tertiary levels. I studied French from high school into university where I majored in the language. I was also awarded a scholarship for my French proficiency that took me to study in the Loire Valley.
I LOVE tutoring French because it brings me so much JOY. I love seeing my students master the French language and excel beyond their expectations while also learning about the French culture. My passion for French shines through every lesson because I want my students to love the language. I like to make our lessons fun and engaging!
Whether you are a beginner, preparing for VCE exams or mastering French at university - I would love to help you! Happy to meet you at a library or over Zoom.
Private Tutoring: $60 p/h for all year levels below VCE. $80 p/h for VCE.
See you soon! À bientôt!
Contact
Experience
Very experienced French tutor. I have tutored French for 7 years across all levels (from beginner to advanced) and across all school levels (from primary to tertiary).
Qualifications
Bachelor of Arts (French and Psychology) double-major from The University of Melbourne. Global Mobility Scholarship to study in Tours, France. Alliance Francaise de Melbourne Finalist. Studied French for well over a decade! I am now a post-graduate Masters student at Melbourne Business School and I hope to entwine my passion for the French language within my future career in business.
Rates
$60 per hour
Gender
Female
Registered
Joined Tutor Finder on 09-Feb-2021 (updated profile on 31-Jul-2022
)