Experienced ESL and Modern Greek teacher and tutor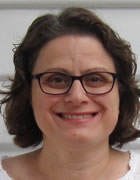 Melbourne tutor in ESL, Greek
(1 student review)
Hello,
I'm a bilingual teacher and tutor of English as a Second Language (ESL) and Modern Greek.
I teach ESL at all levels using the Cambridge CELTA methodology and have taught General English and Business English. I have also conducted conversation lessons, both one-on-one and in groups.
I teach Modern Greek using a simplified approach and can assist beginners wanting to learn Modern Greek for school, work, travel, family or personal interest. I also tutor students at primary and secondary school level.
In both ESL and Modern Greek lessons, I teach the skills of Listening, Speaking, Reading and Writing and cater lessons to the student's needs. Students are welcome to nominate the skills they would like to concentrate on most.
Group lessons for 2 or 3 people are also available.
Feel free to contact me by email or phone should you require further information.
Contact
Experience
I have over 5 years' experience tutoring various subjects, including ESL and Modern Greek.
Qualifications
Cambridge English – CELTA, Certificate in English Language Teaching to Adults
Year 12 Modern Greek (HSC score: 90)
University of Melbourne – Bachelor of Science
RMIT University – Graduate Diploma, Applied Information Systems
Rates
ESL: $50 per hour
Modern Greek: $40 per hour
Please contact me for group (2 or 3 people) rates
Gender
Female
Registered
Joined Tutor Finder on 15-Mar-2022 (updated profile on 11-May-2022
)