Australia's Best Assignmemt Help Services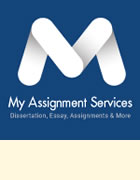 Melbourne tutor in Accounting, Anthropology, Business Studies, Calculus, Computing, Economics, Engineering, Finance, Geography, History, Industrial Technology, Legal Studies, Management, Maths, Philosophy, Politics, Psychology, Society and Culture, Special Needs, Statistics, Taxation
My Assignment Services has a panel of Ph.D. scholars who are eager to help students in both comprehending and completing the assignments in the most effective manner to gain HD grades.
We can help you with with all types of assessments right from general reports to dissertations, Data analysis to technical software-based projects. Our experts are proficient to help you prepare quality assignments within the deadline for your submission.
After any of our researchers have completed the assignments, they are usually reviewed by one of our editorial staff to ensure that the submitted material adheres to MAS quality benchmarks.
Connect with us for our exclusive one on one consultation sessions and get help from the best experts around!
Contact
Experience
Tutoring for 10 years
Rates
$60/hour - for consultation
$110/1000 words assignment
Student Discount
Special Offer - 500 words free on first assignment worth 1000 word
Registered
Joined Tutor Finder on 19-Sep-2016 (updated profile on 01-Oct-2019
)