Boost your CONFIDENCE in ENGLISH and your RESULTS too!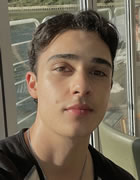 Sydney tutor in Communication, Creative Writing,
English
,
English
Literature, Essay Writing, Journalism, Media Studies, Reading
I travel to these locations
Carlingford, North Rocks, Dundas, Macquarie Park, Ryde, West Ryde, Beecroft, Eastwood, Rydalmere.
(1 student review)
Hi there, I'm Nathan and I specialise in tutoring students from years 7 to 12 in English and related HSIE subjects.
I personally aim to help students achieve the best of their ability and thrive in seeing the growth of those I tutor.
What I do: - Cultivate students skills for assessments and exams. - Prepare students for NATPLAN & HSC. - Edit and polish students work.
- Assist in building students English expertise.
- Go through texts and help with analysis.
Contact
Experience
Why Choose me:
- I educate students beyond their school curriculum & homework.
- I bring my own specialised resources to enhance students education.
- I constantly try to strengthen student confidence.
- I have enabled students to move up classes and achieve higher results.
Qualifications
About me:
- Studied 4 units of English with band 6 results.
- Achieved an associate diploma in Speech and Drama.
- Currently teaching speech and drama at Carlingford Youth Drama School.
- Presently a debating coach for various CSDA teams.
- Currently studying a double degree of communication at UTS.
Rates
$40 per hour
Student Discount
Mention that you found this advertisement on Tutor Finder and you will receive your first lesson for half the normal hourly rate ($20 instead of $40).
Gender
Male
Registered
Joined Tutor Finder on 14-Mar-2018 (updated profile on 28-Mar-2018
)