Tuition | Confidence | Results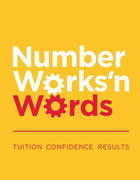 Brisbane tutor in Creative Writing, English, Essay Writing, Maths, Reading, NAPLAN Prep
Service areas
Brisbane, Gold Coast, Ashgrove, Clayfield, Chermside, Indooroopilly, Burleigh, Surfers Paradise
NumberWorks'nWords tuition will give your child's maths and English - and their confidence - a boost. We can help them shine and make you proud this year!
We have been tutoring for 30 years and have the formula for success perfected! We teach students from Prep to year 10 and our tuition succeeds because students get direct, individualised instruction by specialist Maths tutors and specialist English tutors.
We only teach Maths and English to school students in years prep - year 10. Because we specialise in these subjects and grades only, we are well regarded as the best by many.
We are not an agency simply sending the closest tutor that submitted a resume to us. Our tutors are carefully selected, trained and nurtured on staff.
Our specialist tuition in our customised coaching centres, helps build skills and confidence by tailoring a learning program to each student's individual needs. And you, the parent, have direct access to talk to the centre manager, who plans and teaches your child's work.
...and it's fun! Children learn best when they enjoy what they're doing - that's our philosophy and our tutoring is proven every day at each of our coaching centres in Australia, New Zealand, England, UAE and the Philippines.
If you want an objective measure of your child's maths or English capability and progress, a NumberWorks'nWords Expert Assessment will provide the information you need - free of charge!
Contact us for a Free Introductory Lesson Now!
Contact
Experience
NumberWorks'nWords has been tutoring children for 30 years. NumberWorks'nWords
has an exceptional reputation amongst the local schools and families. But, don't take
our word for it. Try it for free! Find out more at
http://www.numberworksnwords.com.au.
Our centres:
BRISBANE
Ashgrove 07 3366 8888
Chermside 07 3350 6723
Clayfield 07 3262 7878
Indooroopilly 07 3720 0011
GOLD COAST
Chevron Island 07 5592 4295
Burleigh 07 5593 8696
Qualifications
Member of Australian Tutoring Association (ATA). All staff have Blue Cards,
relevant qualifications, and have completed comprehensive tutor training.
Rates
First lesson free and no obligation.
Student Discount
Special Offer - Free Evaluation and Introductory Lesson
Registered
Joined Tutor Finder on 30-Dec-2009 (updated profile on 16-Aug-2020
)