High Achieving Tutor Specialising in English and History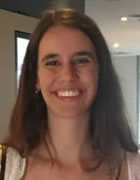 Sydney tutor in Creative Writing, English, English Literature, Essay Writing, History, Reading
Service areas
Sydney Region
(1 student review)
*****NOW TAKING BOOKINGS TO START IN NOVEMBER 2022**** (PLACES CURRENTLY FULL)
**94.25 HSC ATAR - ENGLISH AND HISTORY TUTORING
**Limited Availability - Reserve Place for November 2022
**Online Tutoring Available Only
**2 hour lesson discounted price at $150.00
Hello, my name is Olivia, and I would love to help you succeed in your English and History subjects. I focus on enhancing exam preparation skills, improving essay techniques, strengthening creative writing skills and developing critical source analysis techniques.
I am available to tutor weekdays and weekends at a mutually convenient time.
Contact
Experience
**94.25 HSC ATAR - ENGLISH AND HISTORY TUTORING
I am currently studying a Bachelor of Physiotherapy at Western Sydney University (HD average), and have completed a Bachelor of Animal and Veterinary Bioscience (Honours) at The University of Sydney.
I achieved a BAND 6 (the highest mark) in the following HSC subjects:
ADVANCED ENGLISH - 94/100
MODERN HISTORY - 94/100
MUSIC 1 - 92/100
ENGLISH EXTENSION 2 - 46/50
Internal Ranks:
ENGLISH EXTENSION 2: 1st
ANCIENT HISTORY: 1st
ENGLISH EXTENSION 1: 2nd
ADVANCED ENGLISH: 2nd
MUSIC 1: 2nd
MODERN HISTORY: 3rd
I specialise in tutoring Year 3-6 students who are transitioning to Year 7, who want to succeed in History and English throughout high school. My approach is to encourage an appreciation and understanding of the subject, to enable students to develop the confidence and skills to obtain the best possible mark in assignments and exams. I focus on developing exam technique and essay writing, and believe a strong foundation is the best way to achieve future success in later years, particularly in the HSC.
In relation to Year 11-12 students, my emphasis will be on intensive English and History tutoring solely based in obtaining the best possible HSC result. This will include, but not limited to, a detailed evaluation of course understanding and essay aptitude.
The students I have tutored have significantly improved their academic performance, and are scoring above 90% in their assessments.
I can best help as a tutor as I encourage students to ask questions and seek clarification on key concepts, which improves their understanding and knowledge of the subject. I have a positive mindset, a 'can do' attitude, and have great listening skills. Lessons are planned to best suit each individual's goals and offer honest, constructive feedback to enhance student's academic performance.
I have a Working With Children Check (WWC).
Please feel free to contact me at any time with your questions and we can discuss an arrangement that would work best!
Reviews:
Olivia has created a phenomenal learning environment that encourages critical thinking. She is a welcoming and approachable person, who is always willing to provide help where needed. In my time spent with Olivia, she has greatly helped clarify key concepts that I find I have struggled with in school. She has helped me develop this understanding by providing clear and concise feedback on my essays - feedback which I find myself still applying to this day. Overall, under Olivia's tuition, I find I have significantly improved and refined my skills of essay writing. She is an amazing tutor who I would highly recommend!
- By S. Anicic on 24th July 2021
Qualifications
94.25 ATAR in HSC
HSC Distinguished Achiever - 2015
HSC Honour Roll - 2015
First Place Ancient History - Thomas Hassall Anglican College - 2015
First Place English Extension 2 - Thomas Hassall Anglican College - 2015
Second Place Advanced English - Thomas Hassall Anglican College - 2015
Second Place English Extension 1 - Thomas Hassall Anglican College - 2015
Second Place Music 1 - Thomas Hassall Anglican College - 2015
Third Place Modern History - Thomas Hassall Anglican College - 2015
Academic Excellence Award - 2015
Alumni Excellence Award - 2015
Community Service Award - 2015
Completed a Bachelor Veterinary Bioscience (Honours) at The University of Sydney - 2020
Distinction Grades for Honours Research at the University of Sydney - 2020
Currently studying Bachelor of Physiotherapy at University of Western Sydney
School of Health Sciences Dean's Merit List - 2021 Academic Year
Rates
$90 per hour
Student Discount
Special Offer - 2 hour session - discounted at $150.00
Working With Children Check
Yes, I'm cleared to work with children in New South Wales until 24-Sep-2026 (details available on request)
Gender
Female
Registered
Joined Tutor Finder on 03-Sep-2021 (updated profile on 05-Aug-2022
)