Sydney Tutor in Mathematics, Biology and Music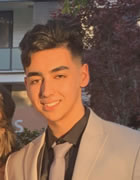 Sydney tutor in Algebra, Biology, Calculus, Further Maths, Geometry, Guitar, Maths, Maths Methods, Statistics
Sydney Tutor in Mathematics and Biology
Hey, my name is Reza Sedighi and I'm starting my first year of Finance at the University of Macquarie and have a huge passion for mathematics. I'm a highly self-motivated individual who tries to build on my experiences I have gained in Killara High School and MQU. My aims are to use these experiences to be a mentor and best teach my students.
I have previously taught year 7 and 8 students and I understand and relate to an HSC student's mindset having finished mine, last year achieving my target ATAR. I am easy-going and approachable but strict when it is helpful to motivate the student.
I am available on weekends, Fridays and Mondays and I have flexible hours and offer online tutoring over Skype. Please do not hesitate to contact me on 0412 391 376 if you have any questions or if you are interested.
Contact
Experience
* 2 years of after school teaching for primary, year 7 and 8 students with mathematics.
* Band 6 in HSC biology and mathematics.
* 4 years experience in playing guitar.
Qualifications
Killara High School (HSC)
MQU - Applied Finance
Rates
High School: $30/ Hour
Primary School: $25/ Hour
*First Lesson at ½ price*
*may vary for home visits depending on location*
Student Discount
Mention that you found this advertisement on Tutor Finder and you will receive your first lesson for half the normal hourly rate ($15 instead of $30).
Gender
Male
Registered
Joined Tutor Finder on 09-Feb-2020 (updated profile on 14-Feb-2020
)