QUALIFIED BIOLOGY CHEMISTRY TEACHER FOR VCE & GAMSAT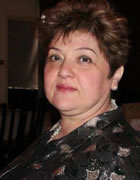 Melbourne tutor in Anatomy, Biology, Chemistry, GAMSAT, Health Studies, Microbiology, Russian, Laboratory management modules: Occupational health and safety in Applied Biology& Chemistry laboratories, Total Quality management in laboratory. Laboratory skills,technique, technology, instrumentation, etc
(1 student review)
I am very professional and knowledgeable tutor. I am teaching VCE Biology
Chemistry, General sciences.
Besides, I have been teaching and tutoring University/TAFE students in BIO 101
and Bio.Medical sciences, laboratory technology skills, GAMSAT
I am offering student theoretical scientific knowledge, research and practical skills, necessary in studying sciences.
They are gaining flexibility and confidence in choosing the topics studied, etc. I am experienced to assist students with assignments and reports, projects, prepare students for SACs, chapter tests, VCE exams, GAMSAT exams. I will show them how to avoid common mistakes.
Through my prior tutoring experience I have understood tactics of individual approach, believing that every student is different. My approach is direct and effective
I am helping students to achieve good grades and meet the deadline with minimal effort, whilst helping them to learn the material.
I aim to develop students to become a better independent thinker to truly enjoy learning; and in conjunction with my guidance and support, enable them to not only achieve the goals but to go above and beyond.
I am available weekdays from 7P.M. to 11 P.M for tutoring students at their home location, or on weekends from 9A.M. till 11P.M at the tutor home location. I am also available on weekends for video/ phone /email sessions.
Contact
Experience
I have 10 years Europian Experience in teaching VCE sciences and 15 years
Australian Experience to tutor Uni /TAFE students in laboratory technology and applied
sciences.
Qualifications
Bachelor of teaching- secondary( Biology,Chemistry,General Sciences).
Advanced diploma in laboratory operation.
Diploma in laboratory technology( Applied Biology, Biological sciences)
Diploma in pathology laboratory technology( Bio.Medical sciences, Medical research
laboratory)
Diploma in Education Support/ Teacher Aid/Integration Aid
Certificate 3 in Sterilisation Services.
Certificate 4 in Training and Assessment
Rates
Rate: $40/hr one on one lessons
Introductory one on one lesson of 1.5 hr for price of 1hr
Prepaid block of 4 lesson/2 hr 10% discount.
Student Discount
Special Offer - Rates are negotiable
Gender
Female
Registered
Joined Tutor Finder on 27-Sep-2016 (updated profile on 16-Jul-2018
)