Enthusiastic and experienced tutor specialising in Year 11 & HSC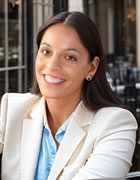 Sydney tutor in Creative Writing, EAL, Economics, English, English Literature, Essay Writing, History, Law, Legal Studies, Maths, Microsoft Office, Reading
Hi, I'm Rita and would love to provide tutoring to motivate you and help you achieve your personal and academic goals.
I am a 2021 Bachelor of Commerce/Laws graduate from the University of Sydney and have worked within the investment bank at JP Morgan. After graduating school in 2016 with a 99.35 ATAR, I have extensive experience tutoring English, Legal Studies, Modern History, Economics and Religion. This experience has been obtained through tutoring privately for over four years and for tutoring company Number Works n Words.
These experiences with a wide variety of students from K-12 have allowed me to develop unique and friendly relationships with students. This stems from my enthusiasm, extroverted personality and passion for learning which ensures I connect with students in an academic and social way. I also make sure that my lessons are customised and catered to the needs of my students. Completing the HSC in 2016, I understand the learning approaches and attitudes that students take to subjects and how to motivate students into reaching their potential. I have a great understanding of the HSC and what each specific course requires to do well.
LESSON STRUCTURE:
- I hope to be able to provide detailed one-on-one guidance, knowledge, and feedback into the syllabus and the specific sections of course work
- I have a wealth of resources available for my students, including; sample assessments, practice questions and answers, syllabus summaries and model essay responses and scaffolds.
I am able to assist with scholarship applications, CV/resume writing, job applications, career coaching, study skills, essay writing technique and exam strategies/techniques.
I would love to have you as a student, so please reach out to me via email ritaandraos99@gmail.com or mobile 0410184627 if you're interested.
Contact
Experience
I have obtained extensive tutoring experience, including 7 months from Number Works N Words and 4 years of private tutoring experience as a private tutor at a primary and secondary level with various levels of ability.
Qualifications
Bachelor of Commerce/Bachelor of Laws at USYD: 2017-2021
Bachelor of Commerce- University of Sydney- 2019 Completion
Bachelor of Laws- University of Sydney- 2021 Completion
HSC Marks:
ADVANCED ENGLISH (94/100)
LEGAL STUDIES (96/100)
MODERN HISTORY (95/100)
MATHEMATICS STANDARD 2 (89/100)
ECONOMICS (94/100)
STUDIES OF RELIGION 1 (49/50)
Work Experience:
JP Morgan Analyst- (Dec 2020- Present)
EY Consultant- (Jan 2020- Dec 2020)
Deloitte Risk Advisory (March 2019- July 2019)
Rates
$70 per hour
Working With Children Check
Yes, I'm cleared to work with children in New South Wales until 30-Nov--0001 (details available on request)
Gender
Female
Registered
Joined Tutor Finder on 30-Jul-2020 (updated profile on 11-Jan-2022
)