Enthusiastic and experienced tutor specialising in Year 11 & HSC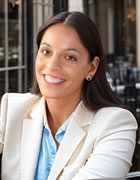 Sydney tutor in Creative Writing, EAL, Economics, English, English Literature, Essay Writing, History, Law, Legal Studies, Maths, Microsoft Office, Reading
(2 student reviews)
[ONLINE TUTORING CURRENTLY AVAILABLE] Hi, I'm Rita and would love to provide tutoring to motivate you and help you achieve your personal and academic goals.
I am a Bachelor of Commerce/Laws student from the University of Sydney with a Distinction Average. After graduating school in 2016 with a 99.35 ATAR, I have extensive experience tutoring English, Legal Studies, Modern History, Economics and Religion. This experience has been obtained through tutoring privately for over four years and for tutoring company Number Works n Words.
WHAT TO EXPECT:
- A tutor with a wide variety of experience with students from K-12. These experiences have allowed me to develop unique and friendly relationships with students stemming from my enthusiasm, extroverted personality and passion for learning which ensures I connect with students in an academic and social way
-High quality one-on-one customised lessons. I am a professional tutor who spends a lot of time every week (in addition to my own law studies) tutoring students of all different age groups across a range of subjects. This ensures I can focus on catering to the needs of my students and motivate students to reach their full potential -Improvements in marks and results based on an enhanced understanding of course content and how to structure responses
-A mentor who is able to build the self-confidence of students through using my personal anecdote and understanding of the HSC and what each specific course requires to do well.
LESSON STRUCTURE:
-Providing detailed one-on-one guidance, knowledge, and feedback on syllabus sections and specific sections of course work that students request - Helping students with revision, essays andcourse work - Providing resources to students, including; sample assessments, practice questions and answers, syllabus summaries and model essay responses and scaffolds.
- Assisting with scholarship applications, CV/resume writing, job applications, career coaching, study skills, essay writing technique and exam strategies/techniques.
I would love to have you as a student, so please reach out to me via email ritaandraos99@gmail.com or mobile 0410184627 if you're interested.
Contact
Experience
I have obtained extensive tutoring experience, including 7 months from Number Works N Words and 4 years of private tutoring experience as a private tutor at a primary and secondary level with various levels of ability.
Qualifications
Bachelor of Commerce/Bachelor of Laws at USYD: 2017-2021
Bachelor of Commerce- University of Sydney- 2019 Completion
Bachelor of Laws- University of Sydney- 2021 Completion
HSC Marks:
ADVANCED ENGLISH (94/100)
LEGAL STUDIES (96/100)
MODERN HISTORY (95/100)
MATHEMATICS STANDARD 2 (89/100)
ECONOMICS (94/100)
STUDIES OF RELIGION 1 (49/50)
Work Experience:
JP Morgan Analyst- (Dec 2020- Present)
EY Consultant- (Jan 2020- Dec 2020)
Deloitte Risk Advisory (March 2019- July 2019)
Rates
$65 per hour
Working With Children Check
Yes, I'm cleared to work with children in New South Wales until 30-Nov--0001 (details available on request)
Gender
Female
Registered
Joined Tutor Finder on 30-Jul-2020 (updated profile on 22-Jun-2022
)