Future teacher, tutoring Maths, English;UNSW Med, Interview Prep, UCAT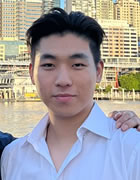 Sydney tutor in Maths, Algebra, Calculus, English, Creative Writing, English Literature, Essay Writing, Medical Interviews, Medicine, Statistics, UCAT
BOOK FREE CONSULTATION NOW ... IT'S FREE
What sets us apart?
🎓 We're Tomorrow's Teachers Today: Our tutors are current Bachelor of Secondary Education students, honing their skills to become the best educators in the field. We live and breathe education, and we're here to help you succeed.
🎓 Year 5-12 Expertise: Whether you're in primary school or preparing for the HSC we understand the difficulties of being a student in all the different stages of life. And we have a different level of tutor to best help you. We tutor Year 5-12 Maths and English. Plus, we specialize in Medical Interviews, Medicine, and UCAT preparation.
🌟 99+ ATAR Tutoring Team: Our tutors are not just good; they're exceptional. They've achieved 99+ ATARs, conquered subjects state-wide, and are pursuing highly competitive degrees like Medicine and Actuarial Science.
📝 Fully Personalized Lessons: No two students are the same, and neither are our lessons. We tailor our teaching to your unique needs and learning style, ensuring you get the most out of each session.
Meet Russell, Your Math Guru! 👋
🧮 Russell, is currently majoring in Mathematics at UNSW with a double degree in Secondary Education (he is going to be the next best Maths teacher). With his passion for teaching and extensive knowledge, he leads our top-tier online tutoring team with unrivalled expertise.
Individual and group tutoring are currently offered in:
✅ Year 5 - 10 Maths, English
✅ HSC Mathematics Extension 2
✅ HSC Mathematics Extension 1
✅ HSC Mathematics Advanced
✅ HSC Mathematics Standard
✅ HSC English Extension 1
✅ HSC English Advanced
✅ Medical Interviews
✅ Medicine
✅ UCAT
FREE Study Skills Consultation:
We understand that choosing the right tutor can be difficult, which is why we offer a free, no-obligation 15 minute consultation. This is where we will gauge your past performance, strengths, weaknesses, goals, and curriculum to personalise your tutoring. You can ask us any questions you have about tutoring or about academics in general - we are always happy to help.
We conduct all lessons through Zoom or Discord to allow maximum flexibility for our students - we understand you have a life outside of school! That also means a Discord channel to have all your questions answered and have other students active at all times!
Individual Tutoring for Year 5-12 Students ($60/hr PAYG or $55/hr for a 10 lesson package)
Group Tutoring for Year 10-12 Students ($40/hr for a 10 lesson term)
Medicine/UCAT ($70/hr PAYG or $65 for 10 lesson package)
Group Tutoring for Medicine (3-4 students) You will be provided with notes, worksheets, textbooks, mock exams, summary sheets and personalised homework tailored to your school curriculum, learning style and goals.
Support outside of lessons:
I'm sure we've all experienced how stressful school can be - which is why we also offer support 7 days/week free of charge to help out with any issues our students may face or regarding any questions they have about their studies.
Referral system: Refer your friend and permanently receive cash back for as long as they are with us. More will be explained within consultation!
Contact
Experience
Tutoring students in Mathematics, Science and English Subjects for 5+ years
Qualifications
- 99+ ATAR tutors on our team (top/dux of state)
- HD's in Australian Maths Enrichment and Australian Maths Challenge
Team consists of qualified tutors studying:
- Bachelor of Science (Mathematics)/Bachelor of Secondary Education
- Bachelor of Arts (English)/Bachelor of Secondary Education
- Bachelor of Science Major in Mathematics, Minor in Statistical Modelling
- UNSW Medicine UCAT 97
Rates
Rates
// $550 for online individual tutoring (10 lesson package)
// $60 per hour for online individual tutoring (PAYG)
// $40 per hour for online small group tutoring (5-6 students in each group)
Limited spots available
/$650 for online individual tutoring UCAT/Medicine (10 lesson package)
/$70 per hour for online individual tutoring (PAYG)
Working With Children Check
Yes, I'm cleared to work with children in New South Wales until 30-Nov--0001 (details available on request)
Gender
Male
Registered
Joined Tutor Finder on 19-Oct-2023 (updated profile on 28-Nov-2023
)