Fun Italian Teacher & English tutor for Italians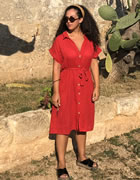 Brisbane tutor in
English
,
English
Literature, Italian, Reading, Italian literature, Italian history, Italian culture and society,
English
for Italians
I travel to these locations
City and suburbs
Ciao a tutti!
I am Sara and I come from a village 60 km north of Rome. I moved to Brisbane in 2015 where I developed my skills in travel and tourism running foodie tours to Italy. When I am not travelling back and forth between Australia and Italy I love sharing my passion for the Italian language and culture with people in Brisbane. Whether you are about to travel to the BEL PAESE or you are a school/uni student, I am available to help with your speaking, listening and reading comprehension skills. My classes are fun and relaxed and will be developed according to your expectations, needs and pace. I prefer teaching from my home in Auchenflower although I am willing to travel for an extra fee to my usual rate, which starts from $ 25 an hour per person. I am happy to tutor both children and adults, privately or in small groups (max 6 people).
Get in touch to secure your spot :) Grazie, a presto!
Contact
Experience
Three years experience with children from 7 to 12 years old helping with homework and basic Italian.
One year experience tutoring adults, couples and small groups, teaching grammar, conversation skills and pronunciation.
Qualifications
Italian Grammar School specialized in humanities subjects (italian language and literature, english language and literature, latin, classical greek, history, philosophy, geography).
Certificate III in Travel & Tourism
Diploma in Travel & Tourism Management
Rates
25$ per hour per person from my home or anywhere in Auchenflower.
30$ per hour within 5 km radius from Auchenflower.
Student Discount
Special Offer - 12 weeks Italian course $ 270
Working With Children Check
Yes, I'm cleared to work with children in Queensland until 29-Apr-2021 (details available on request)
Gender
Female
Registered
Joined Tutor Finder on 22-Sep-2017 (updated profile on 23-Apr-2019
)