Experienced Science Tutor and Specialist in UMAT/GAMSAT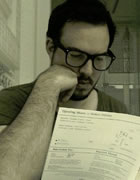 Melbourne tutor in Anatomy, Biochemistry, Biology, Chemistry, Essay Writing, GAMSAT, Health Studies, IELTS, Medical Interviews, Medicine, Microbiology, Physics, Physiology, UCAT
Service areas
Melbourne CBD, Melb Uni, Northern Suburbs, Online
(3 student reviews)
Hi There,
My name is Scott Fraser and I am a biophysical chemist who has worked in the teaching and tutoring space since I completed my high school education, over 10 years ago. I have completed a Bachelor of Biomedical Science, Graduate Diploma in Chemistry, and PhD (Chemistry) from The University of Melbourne, and have since worked in both academia, and corporate science. I spent 3 years as a head tutor of Chemistry at The University of Melbourne, as well as Second year tutor for Biochemistry, and lab demonstrator for Chemistry and Biochemistry for Biomedical Science. I love tutoring as I get to help students achieve their goals academically but at the same time I also hope to provide a degree of mentoring an experience so that they can utilise their education to better achieve their own dreams and aspirations.
I have been tutoring GAMSAT for 10 years now and love helping my students reach their personal, educational, and professional goals. The GAMSAT is a rigorous test that begins long before we enter the exam hall so being an integral part of that process is extremely rewarding for me as is seeing my students evolve into the best versions of themselves. I have my own developed set of resources, and a wealth of experience with students who have now graduated from Medicine and Dentistry at a range of institutions including UWA, The University of Melbourne, Monash University, Deakin University, Flinders University, The Australian National University, The University of Sydney, The University of Wollongong, The University of Queensland, Griffith University, and The University of Otago.
My other loves are Basketball and coffee - if you love them too then we're actually already friends.
Contact
Experience
- Tutoring Chemistry, Biology, and Physics for over 20 years for VCE/IB (SL and HL for IB).
- Former first-year Chemistry tutor and demonstrator at The University of Melbourne 2009 - 2012
- Second-year Biochemistry tutor at The University of Melbourne 2006 - 2007.
- GAMSAT tutor for Section II and III for going on 14 years now with over 50% of students getting
into medicine at a combination of Universities including The University of Melbourne,
Deakin University, Monash University, University of Notre Dame, Bond University,
UQ, University of Wollongong, and the University of New England.
- GAMSAT score in the top 1st percentile on numerous occasions; Highest scores by Section = 67 S1, 86 S2, 92 S3
- UCAT/UMAT tutor for ~ 10 years.
- UCAT score of 3120 in placing in the top 1st percentile. Near perfect scores for SJT, VR, and AR.
- Have been selected for tutor courses representing the School of Chemistry whilst
employed at Melbourne university to become an advanced tutor in 2011
- Excellent communicator with a background in stand-up comedy and public
speaking;
- Specialist experience tutoring students from ESL background
- Expert in teaching Science to non-Science students and breaking down concepts so they're easy to grasp and apply
www.frasersgamsat.com.au for more GAMSAT tuition info on me and the services I
offer but please do get in touch personally anyway - I always aim to meet all my prospective students and discuss how best I can assist them to achieve their goals.
I have experience tutoring the following University of Melbourne subjects and am
very familiar with the course content:
CHEM10007 Fundamentals of Chemistry
CHEM10003 Chemistry 1
CHEM10004 Chemistry 2
CHEM10006 Chemistry for Biomedicine
BCMB20002 Biochemistry and Molecular Biology
I can also take subjects from other Universities at all undergraduate year levels.
Qualifications
PhD (Chemistry) from the University of Melbourne 2012, Grad. Dip. Chem
(Biochemistry/Chemical Engineering/Chemistry) from the University of Melbourne 2007,
BBiomed. Sci fro the University of Melbourne 2004 (Chemistry/Pharmacology).
Rates
$85 per hour
Gender
Male
Registered
Joined Tutor Finder on 31-Oct-2015 (updated profile on 25-Jun-2022
)