Forget the mistake, remember the lesson! **TWO STUDENT SPOTS LEFT**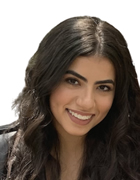 Sydney tutor in Accounting, Algebra, Biology, Business Studies, Calculus, Creative Writing, Economics, English, English Literature, Essay Writing, General Science, Geometry, History, Legal Studies, Maths, Maths Methods, Physical Education, Reading, Statistics, Visual Arts
(4 student reviews)
| 95+ ATAR |
| High Distinction WAM at USYD Med Sci |
| 1st in Adv Maths (new syllabus), 2nd in PDHPE, 3rd in Business Studies |
I aim to create an interactive and motivated environment where students feel comfortable asking questions with no hesitation as this is generally what inhibits them from learning and reaching their full potential in a class environment. I have a strong passion for teaching and helping students reach that 'light-bulb moment' as this leaves me with the greatest satisfaction and reward. I am a strong believer that a student's key to success does not lie in the knowledge alone, but the consistency and growth which enables them to APPLY this knowledge to solve those higher order level thinking questions. From past experiences, I love helping students understand that "mistakes are an opportunity to grow" and it's extremely rewarding to be apart of their journey as they realise that the once difficult is now easy.
HOW CAN I HELP?
- provide step-by-step explanations, examples and consolidation homework material
- ensure each aspect of the topic is well understood before moving forward
- implement effective study habits, techniques and exam tips (key aspects HSC markers love to see!)
- review past paper questions and exemplar responses (ranging from band 3-6 difficulty to identify the do's and don'ts
- build confidence and self esteem within themselves
- develop a sense of interest in the subject to help drive them to their potential
All content covered in class and lesson resources are saved into a Google folder which is made accessible to the student and parent every lesson. This resource bank can be used for review, study and assistance with homework. Students are urged to complete the homework assigned to them before their next lesson to consolidate the material learnt and to help them progress through their learning journey with ease.
Feel free to reach out via SMS/call or email if you have any queries or would like a trial lesson with myself.
Looking forward to starting our learning journey together!!
SOME GREAT FEEDBACK!
"Thank you Shanice! It was such a lovely change to see H talk (with added confidence) about her exam! We really appreciate everything you are doing for her and are sooo thankful for the rapport you've already built with her"- Nicole
"You've saved my grades, thank you so much for your help"- Kiara
"Hi Shanice Thank you for giving me an update on S's lesson with you, I'm glad that she is actually getting the content, really proud of her. S told me that you explain everything in detail and she finds it easy to understand, Thanks for everything"- Preet
"Thanks for being such a great tutor, M was so happy to get 46 out of 50!!!"- Jules
"Everyone is loving what you're doing with S. Thanks again, we really appreciate it"- Joel
Contact
Experience
I have experience tutoring peers during my schooling in advanced classes and have tutored over 40 students since graduating. I have built a great rapport with all my students where they feel comfortable asking questions and growing in knowledge and understanding, as proven in their excellent results.
Qualifications
- Studying a Bachelor of Medical Science at the University of Sydney. Tracking to study a Doctor of Medicine in upcoming years
- Completed the accelerated Mathematics 2U HSC course in 2019
- University of Sydney Business School Award 2018
- University of Sydney Academic Excellence Award (for yr 10 dux)
- Winner of the Australian Business Week Competition 2019
- Class Captain, Service leader, Peer support leader, Mission Promoter and SRC leader
- School rankings; 1st place Maths Adv, 2nd place PDHPE, 3rd place Business Studies
Rates
Year 2-6: $50/hr
Year 7-12: $60/hr
*Discounts for group sessions
Working With Children Check
Yes, I'm cleared to work with children in New South Wales until 06-Aug-2026 (details available on request)
Gender
Female
Registered
Joined Tutor Finder on 13-Aug-2021 (updated profile on 27-May-2022
)