English Teacher - Highly Experienced, Years 7-12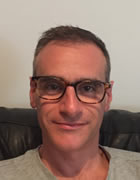 Sydney tutor in Creative Writing, English, English Literature, Essay Writing
Service areas
Eastern Suburbs
(4 student reviews)
I am a highly experienced English tutor and teacher currently working at one of the top performing private schools in the state. I am also a very experienced HSC marker with specific knowledge of what the examiners are looking for. I have a superb track record of HSC results. Last year 94% of my students who attended regularly achieved Band 6.
I work with students of all abilities, from Year 7 to 12. Last year 3 of my students achieved State rankings in Extension 1, Extension 2 and Advanced English.
PLEASE NOTE: I do not travel. Students come to my teaching studio in Elizabeth Bay.
Contact
Experience
Many years of experience with students of all abilities.
Qualifications
Master of Teaching , Master of Arts, Sydney University
Rates
$90 per hour
Gender
Male
Registered
Joined Tutor Finder on 19-Apr-2011 (updated profile on 16-Jan-2020
)