Improving Your English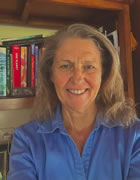 Sydney tutor in Creative Writing,
English
, Essay Writing, Reading, Special Needs, IELTS preparation
(6 student reviews)
Hi,
I am a qualified tutor, and I am here to help you with your English skills. I teach a multi-learning approach because everyone has a different learning style and we discuss this in the first lesson. Would you like to have more confidence and break the cycle of fear and failure?
I am a patient teacher, kind, engaging and I have a good sense of humour. I will help improve your writing and general English. My lessons are innovative and creative. I also have a specialist qualification in tutoring students with dyslexia. This is a very specialised field and I teach a step by step programme using phonics for those who have these challenges.
I like my students to see me as an English buddy. I provide feedback on any errors which allows for more growth and understanding.
I have some time slots open, so please reach out and contact me. I offer these tutoring sessions via Skype. I can help with assignments, essays, writing techniques and ESL support.
More on dyslexia. I have taught many adult dyslexic students with excellent results using phonic principles and explaining how sounds and words go together and decoding the difficulties in an easy to understand way. I have taught dyslexic General Managers who struggle with written English and taught workers in the mines in South Australia.
Early learners are my passion and I specialise in phonics, which concentrates on the sounds of English and provides a solid foundation for reading, writing and spelling. The method I use is very successful with proven success in hundreds of cases. I am a trained TESOL teacher as well as a trained phonics teacher.
My last senior high school student went from a C to an A- in English. See "Student Reviews".
I look forward to receiving your email.
Stephanie Brookes English Tutor and Author
"Indonesia's Hidden Heritage - Cultural Journeys of Discovery."
stephtravelwriter@gmail.com
www.travelwriter.ws
Contact
Experience
13 years tutoring early learners, primary school, high school, university, ESL, adults and
dyslexic students.
Qualifications
Quantam Phonics Certificate
TESOL - Teaching English to Speakers of Other Languages
IELTS Preparation
UNI of QLD - The Fundamentals of English
PROFESSIONAL WRITER - see my website www.travelwriter.ws
Rates
$55 per hour
Gender
Female
Registered
Joined Tutor Finder on 26-May-2013 (updated profile on 23-Oct-2018
)