Boost your results at school.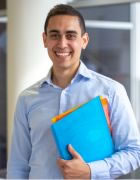 Perth tutor in Maths, Physics, Chemistry, Maths Methods, UMAT, UCAT, Weekly Group Courses
(49 student reviews)
Highly experienced WACE Educator and Academic Director at Peak Education.
Over the past 10 years I've successfully helped 1250+ local WA students from 75+ schools achieve their dreams and academic goals in Medicine, Engineering, Law and other ATAR related courses.
Curriculum Specialisation:
Year 12: Maths (Specialist, Methods, Applications), Physics, Chemistry
Year 11: Maths (Specialist, Methods, Applications), Physics, Chemistry
Year 10: Maths Advanced (Extension)
In the delivery of my lessons, I systematically breakdown the WACE syllabus to a full marks standard and equip students with the specialist knowledge, skills and resources to maximise their marks at school.
During each lesson I explain concepts in a clear way that ensures individual understanding and I concentrate on critical areas that are of common concern to students. High priority is set to ensure lessons are engaging, productive and an immersive learning experience.
Further, I am an advanced user of the Casio Classpad (CAS) calculator and can help students sharpen their classpad skills for boosted efficiency in tests and exams.
If you are looking for a passionate, engaging and highly experienced WACE educator who can help you boost your marks and confidence at school, i'm one call away ph: 0450903192.
I look forward to helping you achieve your academic goals.
- Tristan
Contact
Experience
WACE Tutor at Perth Modern School (2016-2019)
WA Curriculum Resource Developer
Academic Director at Peak Education (www.peak.edu.au)
I specialise in tutoring support for GATE and PSA schools including:
GATE: Perth Modern, Rossmoyne, Willeton, Shenton College, Churchlands, Duncraig Senior, Melville.
PSA: CCGS, Saint Hildas, Saint Marys, MLC, Wesley College, Scotch College, Hale School, Penrhos, PLC, Trinity, Mercedes, Iona and many more.
Kindly refer to positive reviews from parents, students and friends.
Qualifications
B.Eng Elec (Honours) MIEAust ATAM
WACE Curriculum Teaching Experience
Police and Working with Children Check
Rates
Leading tuition from only $45 per hour.
Limited places.
Gender
Male
Registered
Joined Tutor Finder on 18-Apr-2016 (updated profile on 28-Nov-2020
)