WACE SUCCESS, SIMPLIFIED.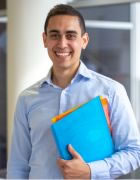 Perth tutor in Chemistry, Maths, Maths Methods, Physics, UMAT, UCAT, Weekly Group Courses
(49 student reviews)
[YR 11 & 12 SPECIALIST] - Hi, I'm Tristan, your Maths, Physics, Chemistry, UCAT Tutor, Coach & Study Mentor. Over the past 10 years I've successfully helped 1200+ students from 75+ WA schools achieve their dreams & academic goals in Medicine, Engineering, Law and other ATAR related courses.
As a degree-qualified engineer, WACE exam publisher and full-time accredited tutor; I empower students to be true learners, by instilling them with the knowledge, confidence, vigour and real-world insight to be successful in their academic, professional and personal lives.
***ENROLMENTS OPEN: 2019/ 2020***
I specialise in one-one mentoring & small group coaching in the following subjects:
ATAR Maths Specialist - Year 12/11 ATAR Maths Method - Year 12/11 (Group classes available, 2019/2020 bookings open)
ATAR Maths Applications - Year 12/11 (Group classes available, 2019/2020 bookings open)
ATAR Physics -Year 12/11 (Group classes available, 2019/2020 bookings open)
ATAR Chemistry - Year 12/11
ATAR Maths (10A) (Group classes available, 2019/2020 bookings open)
ATAR Physics (10) (Group classes available, 2019/2020 bookings open)
ATAR Chemistry (10) (Group classes available, 2019/2020 bookings open)
UMAT: Medicine & Dentistry Entrance Exam & Interviews (resources provided)
* Small group classes run a whole term ahead of the WACE curriculum.
* Classes focus on deep first principle theory, building understanding and familiarity and perfecting exam technique - focusing on real world applications/ purpose/ why.
* Students receive comprehensive notes each lesson as well as structured take-home resources that mimics the same style, structure and difficulty of WACE exams. * Please call to check availabilities, limited seats and full bookings each term.
In the delivery of my lessons, I systematically breakdown the WACE Syllabus and equip students with the specialist knowledge, skills and resources to maximise their results at school.
During each lesson I explain complex concepts in a simplified way that ensures individual understanding and I concentrate on critical areas that are of common concern to students. High priority is set to ensure lessons are interactive, engaging and an immersive learning experience for students. Class instructions are clear, on-point and syllabus centric to eliminate guesswork and lost time spent in textbooks.
Outside of lessons, I provide students with access to a wide-range of simplified and purchased resources from over 50+ schools (inc. theory notes, topic tests, latest mock papers, WACE exam papers, UMAT papers + more); as well as fully worked solutions to help students achieve their very best ATAR.
If you are looking for a full-time reliable and experienced tutor who systematically understands the WACE syllabus to a full marks standard, call me today on 0450 903 192.
I look forward to helping you achieve your academic goals and wish you all the best with your studies in 2019 & 2020.
Tristan Geiles, Ph: 0450903192
B.Eng Elec. (Hons.) MIEAust. ATAM.
WACE Specialist Tutor, Perth Modern School
Contact
Experience
Mission:
- Empower students to define their core purpose in learning and achieve their academic goals.
- Build the education system WA students really need (and parents have been waiting for...)
Latest Role: Full-Time WACE Tutor, Perth Modern School 2019/ 2018/ 2017/ 2016
Completed Degree: Electrical Engineering (Honours) - Curtin University
Leadership Roles:
Director - Peak Education - Present
Chairman - Engineers Australia 2016 (YEAWA)
Vice-Chairman - Engineers Australia 2015 (YEAWA)
Awards:
Top Ranked Thesis Class 2012 - Curtin University
Engineering Scholarship Recipient Western Power (2008-2012)
Engineering Scholarship Recipient API (2008-2012)
Engineering international exchange scholarship 2011 - China
High School TEE Engineering Bursary Recipient, Curtin University 2008
Publications:
International Academic Publisher for the Institute of Electrical Engineers (IEEE) - 2 White Papers presented in 2 countries.
I have tutored students from the following schools in 2018:
Perth Modern School, Scotch College, PLC, Christchurch Grammar, Saint Hildas, MLC, Hale School, Saint Marys, Wesley College, Penrhos, Carmel, All Saints, Iona, John XXIII, , Shenton College, Newman College, Churchlands, Willetton Senior, Rossmoyne, Trinity College and many more....
I have a deep academic connection with 70+ WA schools - my experience is often leveraged as advisory for parents wishing to select a high school for their son/ daughter. Parents, feel free to contact me directly on this basis.
Qualifications
B.Eng Elec (Honours) MIEAust ATAM (+9 years tutoring experience)
Australian Accredited Specialist Tutor - Registered 2018
Working with Children's Check - Registered 2018
Police Clearance Check - Registered 2018
Rates
Please contact directly for up to date tutoring fees and enrolments 2019, ph: 0450903192.
Gender
Male
Registered
Joined Tutor Finder on 18-Apr-2016 (updated profile on 18-Nov-2019
)