Full-time top Canberra tutor for 12 years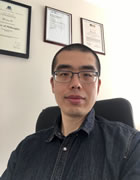 Canberra tutor in Algebra, Calculus, Chemistry, Computing, Creative Writing, EAL, Engineering, English, ESL, Essay Writing, Further Maths, General Science, Geometry, IELTS, Industrial Technology, Mandarin, Maths, Maths Methods, Physics, Programming, Reading, Statistics, HSK (Hanyu Shuiping Kaoshi) Test
(69 student reviews)
Customised one-to-one and small group (2-3) tutoring sessions. Contact now for a special rate for your holiday sessions to prepare for next year Contact me to book your 2022 sessions now Some highlights of previous students:
Radford student: achieved ATAR 99.80 going to UNSW Medicine
Radford student: achieved ATAR 99.55 going to ANU Medicine
Radford student: achieved ATAR 99.5 going to ANU Advanced Computing
Radford student: One out of 7 from 1400 candidates from Canberra and outer region selected for air force at ADFA
Radford student: going to UNSW Science
Burgmann student: achieved ATAR 99.1 going to ANU Law
Burgmann student: going to ANU Actuarial studies
Narrabundah student: going to ANU Science
Narrabundah student: going to ANU Engineering
Former ANU lecturer and tutor. Focusing on one-on-one and small group tuition for over 10 years in Canberra. Holding Permission of Working with Vulnerable People (WWVP). Founder and Principal of whY Tutoring with tutors specialized in multiple areas.
-Professionally trained in education area with sound knowledge and 12 years of teaching experience in subjects including
Mathematics
(Year 7-Tertiary, Double Maths, Specialist Maths Methods, ACT curriculum, IB, HSC),
Physics
(Year 7- Tertiary, ACT curriculum, IB, HSC),
Chemistry
(Year 11-12, ACT curriculum, IB, HSC),
Programming and Computer Science related subjects
,
-Offering home-visit, school-visit and extra phone/online help.
-Self-designed lessons/homework delivery available.
-Available during the day, after hours, evenings and weekends.
You can find more about me from whY Tutoring Homepage:
http://www.why-tutoring.com
Feel free to contact me or my assistant Grace by emailing to
info@why-tutoring.com
or calling at
0421634367
.
Contact
Experience
I started lecturing and tutoring at ANU since 2008. I established my own tutoring business in 2009 and I have been focusing on providing private tutoring to those who are either in seek of willing to be outstanding or catching up the average. My tutoring sessions are customised to best suit the students' needs. Instead of repeating what has been taught in school, I provide extra guidance and answer students' questions in the sessions. This has been proven to be very useful to improve students' problem solving skills and confidence.
I support about 50 students ranging from primary school to tertiary level, and working professionals every year. With more than 10 years tutoring experience in Canberra, I have developed my own networking with schools, families and local tutoring agencies.
I always tutor my students with a smile and I am happy to share my feeling, experience and inspiration with them. I am passionate, patient and reliable and all of these guarantee the quality of my tutoring as well as my enthusiasm in it. I am and will keep on tutoring and helping students with my knowledge, honesty, reliability and sincerity. Especially, I am good at inspiring students' interest in the subject with vivid pictures/videos in tutoring, such as flashes, slide shows, and practical experiments.
I am experienced in tutoring Specialist Maths, Double Specialist Maths, Maths methods, Physics and Chemistry, and I have been supporting more than 500 students in their study, improving their learning skills and capability since 2008.
Qualifications
Qualifications:
--Previous ANU lecturer
--Distinguished Certificate of Graduate Teaching Program of ANU.
--Permission of Working with Vulnerable People.
Degrees:
--Master of Philosophy in Engineering (by research) of Australian National University
(ANU).
--Bachelor's Degree of Engineering of Beijing University of Aeronautics and
Astronautics(BUAA).
--Second Bachelor's Degree of International Business of Beijing University of
Aeronautics and Astronautics(BUAA).
Rates
From $100/hr for one-to-one tutoring.
From $80/hr for group tutoring (2-3 students).
Extra charge may apply for difficulty levels, home visit, customised tuition, etc.
Call me today for a special offer!
Student Discount
Special Offer - Group tutoring (two students or more) discount available.
Registered
Joined Tutor Finder on 21-Nov-2013 (updated profile on 07-Jan-2022
)