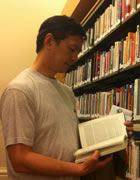 Helping students to achieve their goals since 1982
Tutor in Physics, Maths, Calculus, Statistics, Maths Methods, Chemistry, Algebra, Further Maths, Visual Arts, IB Physics SL/HL, Physics Essay, EEI Report...
One tutor for three key subjects: Physics, Maths, and Chemistry at all levels. Visiting Yong Tuition at Youtube for demos.

For ambitious students, I provide both single-subject and integrated tutoring in Physics, Maths, and theory...
9130 students have viewed my Featured Ad on Tutor Finder