Stay Home. Stay Safe. Study Online.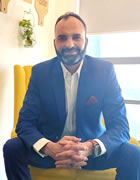 Melbourne tutor in Accounting, CPA-CA, Finance, Management Accounting, Company Reporting, Financial Accounting, Cost Management, Corporate Finance, Investments, Business Finance, International Finance, Financial Management and Management case studies. CA, CFA and CPA students are most welcome
(1 student review)
"Anish was very thorough in his review and provided great recommendations on how my work could be improved. He went above and beyond and provided an additional session free of charge. I got 38.75/40 which is a tie for the highest grade in the class. I will certainly use his services again throughout my degree." - Harrisson on Assignment help on 23rd Oct. 2020
"Anish is a great teacher and easily explains complex concepts in simple terms. I wish I had him through uni to grasp a lot of my accounting topics properly. He has helped me understand the Financial Reporting subject in the CPA program very well . I highly recommend him to anyone starting their CPA program and stuck in a few of the harder subjects like Financial Reporting." - Samial CPA candidate reviewed on 4th October 2020
"Anish demonstrates high levels of professionalism and knowledge - paired with his strong ability to coach and mentor. He passes on his extensive knowledge of Chartered Accounting in his coaching sessions, and provides every opportunity for his students to thrive. He takes the time to genuinely understand each student, and formulates a method of providing assistance that is the most effective. His caring, friendly and positive nature allows each student to build their confidence, as well as their knowledge." - Reviewed by Stephanie on 30th August 2020
6 reasons to choose my online sessions during Covid-19:
 Focused on Accounting and Finance subjects.
 Book an online session as late as midnight, 7 days a week.
 Each session is thoughtfully tailor-made and delivered by Anish himself.
 A unique step by step Concept building teaching style that helps you learn at your natural pace.
 Access to Concept Videos that can be viewed on-demand at an affordable fee.
 Anytime, Anywhere model, for those who seek simple yet safe learning experience during such challenging times
"Anish has been an amazing help to me with my finance module for my MBA. He is a patient teacher who takes the time to understand your questions and provide you with the tools to learn and complete your assignments. I've used Anish twice now and feel confident every time that he'll help me get through anything I'm struggling with. An all-round lovely guy who just happens to be a super-smart mind and great teacher." - Reviewed by Tracy on 18th August 2020
Who am I? Qualified Chartered Accountant (IND), an MBA in Accounting & Finance (UTS - AUS), Certified Life Coach (AUS), Certified Trainer and Assessor (AUS), and a Certified Brain Mapping Practitioner (UK). I have trained, coached, taught over thousands of students over the past 16 years. Teaching is my passion and helping people achieve their academic or personal goals brings me immense joy.
Whom do I teach?
Clients come from all walks of life: from university students to working professionals, from small business owners to managing directors of multi-billion dollar companies. I take pride in my ability to connect with any age group and any nationality.
When do I teach? 7 days a week including public holidays. I can organize a time, day which is convenient for YOU, ensuring that your learning needs are always answered promptly. Sessions are done as late as midnight AEST.
Where do I teach?
Simply click and join to save time, travel, and money. All sessions are conducted by me on a live interactive platform such as Zoom. Above all, considering your busy lifestyle you get the flexibility to learn from the comfort of your own home or office. Hundreds of positive testimonials to vouch for the quality of my online sessions. Not to mention the #stayhomestaysafe response to the Coronavirus pandemic, its best to learn sitting at home.
How do I teach?
The whole idea would be to stick to the outline of your course material, but give you access to my quality notes to provide a logical explanation. For assignment or case study help sessions will be more structured around your assignment request. Please note I don't write essays, do your quiz or an assignment on your behalf as its not ethical.
How much do I charge?
Please refer to the "Rates" section for more details.
"Anish got back to me very quickly with my enquiry, and was extremely helpful in his session! He not only helped me with the many queries that I had, but he also evaluated what I had sent him even further, and helped me improve my work all round! He always made sure that I understood what he was teaching, and was very clear with his feedback. I'll absolutely be seeing him again!" - Luke from Australia reviewed us on 12th August 2020
Happy learning and speak to you soon.
Anish Baheti
Concepts Coach - Founder Chartered Accountant & MBA (Accounting and Finance) - Sydney, (AUS)
TAE40110 Certificate IV in Training and Assessment (AUS)
Certified Life Coach (AUS)
Brain Mapping Practitioner (UK)
Coach | TEDx Speaker | Consultant | Author
Fancy learning Basic Accounting in less than 90 minutes using a 52-card deck? If you are from a non-accounting background and want to learn the language of business is a fun, simple and quick yet effective way, this is it!: https://www.eventbrite.com/e/119575245779
"I am from a professional non-accounting background and was finding even the most basic definitions and concepts of accounting difficult in my MBA course. The card deck method has enabled me to grasp those concepts very quickly and through repeated practice, has made it simple. Thank you Anish!" -Perth, Western Australia on 5th Oct. 2020.
*****Quality focused | Simple pricing | 7 days a week*****
Still, have a question? Email: anishbaheti@conceptscoach.com.au | Website: www.conceptscoach.com.au | Skype: concepts.coach
Contact
Experience
Amidst the coronavirus outbreak, invest today in online tutoring, because your learning should never stop. Read what others have to say about their online learning experience with me:
"Wow!!! I come from a non-financial management background and am a small business operator with 23 years of business life. My MBA has been a studious, disciplined adventure with good results. However, the concepts of financial management and analysis quickly revealed weakness and a lack of confidence that was hard to overcome. Anish was able to 'unpack' concepts and identify the stumbling blocks in my learning, align my interpretation with what is actually required, and see-through confusion to identify the parameters that matter. Anish is able to meet you at your level and inspire your learning through results. From the basics of financial calculator inputs to more complex time value problems and valuing bonds and shares, he made me feel capable and the result was I learned what may have otherwise been lost. The subject now interests me, motivated to take on more, and to that end, I tip my hat to you Anish." - Richard on Capstone assignment
"Last minute panic lead me to desperately finding someone to help me. I found a tutor online and messaged them a few hours prior to the time my assignment was due, and Anish replied almost instantly. I was very overwhelmed and he was able to quickly find time to assist me. I was so relieved when he knew absolutely everything I didn't understand and he assured and supported me over my hour session. This was the best $75 spent and I will be contacting Anish again regarding my final exam. Such a reliable, calm, and supporting person! Wouldn't have been able to complete my assignment without him." - Nikita - Assignment help
"Prior to Anish's guidance, I was having trouble understanding some of the general accounting practices being taught to me at my university and was achieving sub-par results, however with his guidance and teaching I am now achieving an HD (80%+) average on my given tests and assignments. He teaches at a pace best befitting the student and is very thorough in helping his students achieve the best marks possible." - Josh, Accounting for Decision Making
"I contacted Anish a couple of weeks before my post-graduate finance assignment was due for some last-minute expert advice on some issues I was unclear on. Anish was extremely flexible, personable, and able to cater to my busy schedule. He is a subject matter expert and brilliantly broke down the scenario's to allow me to fully understand the concepts at play. I have no hesitation in recommending Anish to anyone seeking coaching or advice on accounting or finance subject area's, and will definitely be calling on him again in the near future. Thanks" – Shaun, Corporate Finance
"I was really worried about Corporate Accounting because thought I was going to fail the exam, but I ended up getting a High Distinction (90%) for my final exam. You were really patient in teaching me and you made sure I understood each part. Thank you for all your guidance." - Ms. Pillai, Corporate Accounting
"I am in the process of completing my CA studies and with almost no in-person assistance provided; it was very comforting to know, that if I struggled with any concepts, I would be able to have a clear explanation from Anish. I went into the exam feeling a lot more confident. A small price to pay for education." - Rachel, CA program
"Anish is a great coach. He's able to quickly understand your necessity and doubts. In addition, he's pretty flexible, easy to work with, in special under a tight deadline. Anish clarified and guided me through my assignment just a few days before the due date. He has great knowledge and an easy and confident approach. No doubt that I highly recommend Anish" - Paula - Working Professional from New Zealand
"Anish is an excellent Coach. His flexibility via the online sessions and his ability to make himself available at difficult times are well suited to busy professionals taking further education. His broad knowledge and ability to identify the crucial principles in the material being studied made my job (almost) easy!" - Alex (Online sessions)
"Anish has helped me significantly improved my skills in accounting. Prior to meeting with Anish, I was struggling significantly with understanding basic concepts of accounting. I have now improved significantly to the point that I have achieved my first High Distinction on my first assessment. Thank you!" - Jess, Business Owner (Online sessions)
"I really appreciate the assistance that Anish provided in the week before my exam. I was still very confused about 3 key areas in postgraduate level accounting, and with HUGE patience, Anish simplified and assisted me to understand these areas. I wish I found him sooner." - Trish (Online Session)
"Anish is a great coach, especially for someone whose background is not in finance and accounting like me. He is well prepared and presented which enables easy understanding of every question in detail." - Van (Online session)
"Anish was a fantastic tutor. He personalized each session to accommodate my learning needs. I would have not got through my finance subject without him and I thoroughly recommend him to anyone requiring assistance in the finance area. He is a very patient tutor and the online sessions were very effective. Thanks, Anish for everything" - Amanda - Working professional (Online sessions)
"Thank you so much for your help and guidance for understanding Financial Accounting, which is one of the challenging subjects for CA foundation (Australia). You have helped me to understand some of the key areas of this subject, I truly appreciate it." - Mousumi, Professional (Online session)
"Very helpful as he paid complete attention to my learning needs. He uses a variety of approaches to make a student understand complex topics in a simple & easy to follow steps. Thank you, Anish" - Aaronna, (Online session)
"I highly recommend Anish, very intelligent, he explained things very clearly, helped me become more confident. I understood exactly what he was trying to say, I am grateful." - Luiz, Professional (Online session)
"I wish to thank you for your coaching to help me with the Chapters to date. You have provided me with some clear tips to help and I will now rely on your coaching and will certainly look to use you again for any coaching and, or analysis work that I may become aware of." - 2016 Business Women Awards (Australia) - Finalist
"Anish is very professional in analyzing a business. During our sessions, he contributed to many innovative ideas for writing my business report, which achieved a very high GPA." - Melissa, Professional (Online session)
"Mr. Baheti is one of the most considerate teachers I have come across in a long time. He understands and has an exceptional grasp of the subjects he teaches which is essential. Another is that he is a very patient person, never gets mad at being asked the same question over and over again which is a big plus for me." Nowroz, Student (Online session)
"Thank you for your session on the key financial reports. As there was no cost involved, I was a little unsure as to what information I'd receive. The fact that it was a webinar gave me the impetus to join in. The session was clear and concise and spelled out the elements in the financial statements in an easy to comprehend way. I'll be looking forward to furthering webinars. Congratulations on a well delivered and information-packed session." - Carole on a FREE webinar on 4 Key Financial Statement
"Anish has a wealth of experience in the world of accounting & finance. I found his coaching style insightful and very helpful. He is very supportive, has a clear direction, and always makes himself available. I would highly recommend him. Thanks, Anish!" - Petrina Designer
"Anish provided great insight into the world of finance. His support and direction assisted me in my studies, which resulted in me getting equal dux in my unit for finance & legal strategies - he was a great help." - Simon, CEO (Online sessions)
and many more.....
Log on to the website link listed below and watch a 2 min introductory video to learn about all the help that is available to you.
Contact details:
Anish Baheti
help@conceptscoach.com.au
www.conceptscoach.com.au
Skype: concepts.coach
Qualifications
MBA - Accounting & Finance - University of Technology, Sydney (AUS)
Chartered Accountant - (IND)
Certificate in Life Coaching - (AUS)
Certificate in TESOL & Business English - (USA)
Certificate IV in Training & Assessment (TAE40110) (AUS)
Certified Practitioner Brain Mapping - (UK)
Subjects taught:
Management Accounting
Company Accounting
Financial Accounting
Accounting For Decision Making
Corporate Accounting
Cost Management
Corporate Finance
Business Finance
International Finance
Financial Statement Analysis
Financial Management
Financial Maths
Financial Reporting
Managerial Finance
Company Law
International Finance
Accounting and Finance for Small Business Owners
Case studies and assignment help
CA CFA and CPA course material
Rates
Simplified pricing and quality tutoring:
Basic level: (min. 90 minutes per week) - AUD 60 per hour so 90 minutes is $90
Intermediate level (min. 90 minutes per week) - AUD 70 per hour so 90 minutes is $105
Advance level (min. 90 minutes per week) - AUD 80 per hour so 90 minutes is $120
CA-CPA-CFA level (min. 90 minutes per week) - AUD 90 per hour so 90 minutes is $135
Block of 10 hours at 10% off.
Block of 15 hours at 12.5% off
Block of 20 hours at 15% off
Please note the above charges are for ongoing interactive online one on one sessions. Also be advised that charges for last-minute exam help, assignment review, crash course prep. would be on a case to case basis and quote will be provided before starting the sessions.
Gender
Male
Registered
Joined Tutor Finder on 24-Jul-2011 (updated profile on 16-Nov-2020
)