Experienced Maths, Physics, Calculus tutor in Doncaster East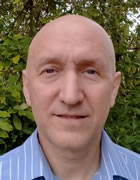 Melbourne tutor in Algebra, Calculus, Further Maths, Maths, Maths Methods, Physics, Statistics
(3 student reviews)
Melbourne tutor in Algebra, Calculus, Maths, Maths Methods, Physics, mathematical methods, further mathematics, specialist mathematics, math, maths, methods, further, specialist, physics, VCE, University
Hourly sessions at my home. One-to-one or small group of two or three.
Extensive experience in tutoring highschool students in Melbourne in the last 10 years. Presently working as a mathematics tutor at the University of Melbourne.
Qualifications Ph. D. degree in Mathematics at Paris University
Masters Degree in Mathematics at Bucharest University
Victorian Work with Children Certificate valid until March 2020
Rates:
from $55 per hour
Contact
Experience
Extensive experience in teaching mathematics
Currently working as a tutor in mathematics at the University of Melbourne.
Giving private tuition in mathematics and physics to high school students in Melbourne. I specialize in VCE, Scholarship and Maths Olympiad preparation
Qualifications
Ph D in Mathematics
Rates
$55 per hour for highschool mathematics. $60 per hour for university level mathematics
Gender
Male
Registered
Joined Tutor Finder on 01-Aug-2018 (updated profile on 21-Aug-2019
)