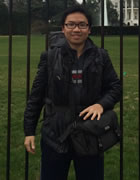 Melbourne tutor in Maths, Chemistry, Maths Methods, Vietnamese, Algebra, Calculus, Statistics, Biology, General Science, Human Biology, Biochemistry, ESL, Essay Writing, Music Theory, Musicianship, Piano
(5 student reviews)
Hi everybody. I'm Andy Nguyen and I am tutoring Chemistry, Math Methods, Specialist Maths, EAL and Vietnamese at VCE Year 11-12 level, as well as Maths and Science for junior high school students. I am a native Vietnamese speaker and I would love to help somebody who is interested in the language to learn through conversations outside academic pursuit.
A little information about me: I graduated from Brunswick Secondary College as the Dux of 2013 with an ATAR score of 99.15. I was offered Melbourne Access Scholarship by The University of Melbourne. I am a Bachelor of Biomedicine graduate (with H1 average) and is currently pursuing an academic career in immunology & cancer research.
The (raw) study scores I received for subjects which I tutor are:
Chemistry (44)
Math Methods (43)
Vietnamese (43)
EAL (42)
Specialist Maths (36)
These are some other achievements I was awarded at high school:
+ Outstanding Academic Achievement Awards in English (ESL), Math Methods, Specialist Maths and Chemistry.
+ Participation in The University of Melbourne's Extension Program in Mathematics.
+ Participation in Monash University's Chemistry Challenge Program.
+ VCE Top Scorer in Vietnamese.
+ Participation in Monash University's Leadership Workshop for High Achieving Students.
For me, tutoring has always been a fulfilling experience. It gives me the opportunity to reflect upon my knowledge, to give back something good to students and to inspire them with my enthusiasm and commitment. I have a strong passion for education which I would love to share with you. I will always look forward to supporting you to achieve your greatest learning potential.
Depending on your academic level, I will focus on solidifying fundamental concepts, clearing up misconceptions and explore different strategies that enable you to avoid making repetitive mistakes. For some subjects, I have a huge collection of worksheets and notes personally written by myself to provide you as practice/revision materials. I am very approachable. Thereby if you have any individual questions related to the subjects, please message me outside our lesson time.
My tuition rate ranges from $25-50/hour, depending on the actual subject and academic level. The location for lessons is negotiable, it can be at your home, University of Melbourne Library or a local library. If you have anymore questions just don't hesitate to give me a private message via email or my phone number.
I have currently valid Police Check and Working with Children Check.
Apart from tutoring I enjoy DSLR photography, playing piano, solo backpacking and spending quality time with my family and friends. I also love getting involved in volunteering and social works, to help people in needs and contribute my little efforts towards charitable causes.
Contact
Experience
Homework Club Tutor at Embrace Education
Former Teaching Assistant at Brunswick Secondary College
4 years of experience in private tutoring scheme
Qualifications
Graduated from Victorian Certificate of Education (VCE).
Graduated from Bachelor of Biomedicine (B-BMED) at University of Melbourne, with H1 average.
Rates
Minimum is $25/hour and up to $50/hour, depending on location and academic level
5% discount applied for lump-sum advance payment
Special offer for introductory lesson
Student Discount
Special Offer - 5% discount applied for lump-sum advance payment. First lesson free of charge if unsatisfied
Working With Children Check
Yes, I'm cleared to work with children in Victoria until 04-Dec-2018 (details available on request)
Gender
Male
Registered
Joined Tutor Finder on 07-Dec-2013 (updated profile on 10-Oct-2018
)