Experience NATIVE speaker ITALIAN tutor in person or online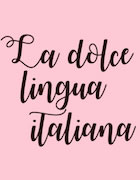 Sydney tutor in Italian
Service areas
North Sydney
(6 student reviews)
Ciao!
my name is Debora, I am a native Italian tutor living in Sydney for 9 years.
I completed my academic studies in Italy and since then, I've been teaching italian in Australia, at variuos colleges, schools and giving private lessons.
At the moment I run my own business primarily doing one-one lessons as I beleve this is the most efficent way to learn the language fast and properly.
Since I arrived I started my business helping several people with italian gaining great results.
My Italian is pure without regional accents as I also studied acting and diction.
I'm passionate about my beautiful language, which I would love to help you to learn and enjoy.
My students say that I'm a very patient techer as I do love people and also I do undestand the struggle that is involved in learning another language. My focus is to help my student feel comfortable during my lessons. This makes it possible that my students feel always comfortable during the lesson, wittout fear to express themselves or say something wrong.
I teach people of every level and age from beginner to advanced including assisting with translation, helping HSC students, writing business letters or email, creating texts and so on. I also worked at the Primary School and I have my Working With Children Check available.
My lessons are completely tailored on my student's needs and goals.
I offer one-on-one lessons but I am available for small groups too.
Lessons occur at my place in Mosman 2088
Rates are listed below :
Single individuals - 60$ e per hour
Groups - 2 people $40 per person
3 people $30 per person
4 people $25 per person
Online Help - $60 per hour for a Skype lesson, prices are negotiable for other tasks.
Discounts are available if you book a package of 5, 10 or 20 hours in advance.
First lesson Is half price!!
Can't wait to meet you!!
A presto!
Debora
Ps: follow me in my Instagram and Facebook page "La dolce lingua italiana"
https://www.instagram.com/ladolcelinguaitaliana/
https://m.facebook.com/italianmosman/
Contact
Experience
I was teaching at the primary school full time for one year in Perth. I also used to teach
italian in many other places in Perth like Freemantle italian club and Dante
Alighieri evening classes for adults.
I'm currently working all over Sydney, as a private tutor for many years.
My students visit me every week from suburbs such as Mosman, Cammeray, Cremorne,
North Sydney, Crows Nest, Inner City and surrounding.
My students have various ages, from young (3 years) to old (any) and I'm teaching and
tutoring based on their personal need and capacity with excellent result.
Qualifications
Italian Bachelor Degree
Rates
One to One $60
Group $40/25
Online $60
Student Discount
Mention that you found this advertisement on Tutor Finder and you will receive your first lesson for half the normal hourly rate ($30 instead of $60).
Registered
Joined Tutor Finder on 25-Nov-2011 (updated profile on 04-Sep-2020
)