99.90 ATAR 🎓 3450 UCAT (99th Percentile) 🎓 Maths State Ranker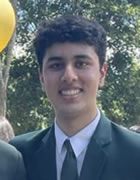 Sydney tutor in Algebra, Calculus, Further Maths, Geometry, Maths, Maths Methods, Maths Specialist, Statistics
Hi, I'm Gurkeerat! I'm a 2021 graduate from James Ruse Agricultural High School and currently studying Medicine at WSU. I have several hours of experience in teaching Physics, UCAT and Mathematics and am currently offering tutoring for all levels of HSC maths from Advanced Mathematics to Extension II, as well as mathematics from year 7-10.
🎓My Results:
Mathematics Extension 2: 98 (State ranked 9th in state, 4th internally)
Mathematics Extension 1: 99 (6th internally)
Physics: 98 (2nd internally)
Chemistry: 96 (30th internally)
English Advanced: 91
UCAT: 3450 (99th percentile!)
VR: 790
DM: 890
QR: 900
AR: 870
SJT: 663
I have both private tutoring experience and experience teaching at major tutoring centres, so I know what it takes to guide students in understanding new concepts and facilitating their learning. Furthermore, I have vast experience acting as mentor to students, having provided students with guidance on how to approach their studies and maintain a healthy balance in high school through various mentoring opportunities in school and past tutoring experience.
🧠 My knowledge : I've studied up to 100 past papers from all the top schools and have gone through all the HSC papers from the past 20 years, so I know every trick in the book and all of the hardest questions. Through this I've identified all the common question types for each topic and common patterns in all the hardest questions, knowledge which helped me ace my exams and will soon help you ace yours.
🧠 Teaching style: In my belief there are two main areas where students lose maths marks: Harder questions and silly mistakes. My teaching method aims to help students with both of these by providing a vast array of questions testing the same concept in multiple ways, as well as explaining the key to not making silly mistakes; no shortcuts. Part of the reason for my success was the ability to cut out silly mistakes, which ultimately helped me get all of the first 90 marks correct in my Extension II HSC exam and state-rank. The key to limiting silly mistakes is intelligent preparation focused on being thorough and repetition, and this is a skill I endeavour to teach all my students.
🧠 Access to unlimited questions and past papers with explanations: I believe the key to improvement in mathematics is to expose yourself to a wide variety of the hard, outside-the-box questions. When I was a student, I had to actively search for all the hardest questions by sorting through past papers from multiple schools. As my student, you'll gain access to all the hardest, conceptual questions which will put your knowledge to the test and ultimately prepare you for anything thrown at you in a test.
🧠 24/7 assessment help: Stressing right before an exam and desperately need help with a question? I'm always accessible, since I understand what it's like to have been in that position. My role as a tutor isn't limited to just our weekly lessons, and if you're stuck on a question or need guidance with your studies in general, I'm always available.
🧠 Lesson Structure: Lessons are between 1 and 2 hours long (can be decided upon with further discussion) and will cover theory for the first half, and run through question examples which consist of harder HSC and past paper style questions collated by me. The longer the lesson, the more practice material we can work through together and more time to answer any questions. Homework will be given at the end of each lesson to supplement learning.
Contact
Experience
High School Maths Mentor, 1 year tutoring experience at major tutoring company, Peer Teacher for Mathematics and Physics
Qualifications
Mathematics Extension 2: 98 (State ranked 9th in state, 4th internally)
Mathematics Extension 1: 99 (6th internally)
Physics: 98 (2nd internally)
Chemistry: 96 (30th internally)
English Advanced: 91
UCAT: 3450 (99th percentile!)
VR: 790
DM: 890
QR: 900
AR: 870
SJT: 663
Rates
$75 per hour
Gender
Male
Registered
Joined Tutor Finder on 17-Jun-2022 (updated profile on 23-Jun-2022
)