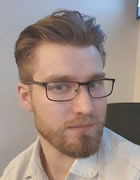 Brisbane tutor in Algebra, Calculus, Engineer, Engineering, Maths, Physics, Statistics, Programming Experience in: Python, Matlab Writing Experience in: Experimental reports, Design documents, Scientific literature reviews
I travel to these locations
The greater brisbane area, particularly the bayside
Hi, I'm hugh, I'm a fifth year engineering student and long-time 'hobby' tutor looking to start working professionally.
I have four years of informal experience in tutoring maths, science and engineering, and an entire university degree's worth of knowledge in the same fields. I'm willing to take the time to not only help with the 'how' of subjects, but the 'why', so that I can impart genuine understanding over simple short term results. I'm able to help with anything from a high school level to university graduate level, whether it be simple everyday homework or major long-form projects and assignments.
I have a flexible timetable, can do home visits, university visits, or work at any other location of your convenience within the greater Brisbane area. Send me a message/email or give me a call, and I can guarantee a you won't be disappointed!
Contact
Experience
Half a year's private tutoring in high school (year 12) Maths B and English
4 and a half years 'hobby' tutoring of university physics, maths and engineering
Qualifications
-Highschool graduate, majoring in Maths C, Maths B, IT, Physics and English. Graduated with OP 1.
-Four and a half years (of 5) of study at UQ, studying science (Physics) and engineering (Mechanical & Aerospace)
-Experienced programmer in python in matlab
-Experienced with writing of technical design documents, lab reports, scientific literature reviews and other large assignments
Rates
For an extra $10/hour, I'm can provide detailed study notes and example problems for almost any topic.
Gender
Male
Registered
Joined Tutor Finder on 27-Jun-2017 (updated profile on 07-Jun-2018
)