Experienced VCE Chemistry Tutor (Scored top of school)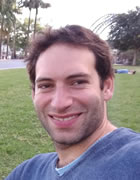 Melbourne tutor in Chemistry, Physics, Maths Methods, Calculus, Algebra, Engineer, Engineering, Maths, General Science, Statistics, Specialist Mathematics
I enjoy explaining complex concepts in a concise and clear manner. I tailor each tutorial to my students individual needs. Students will develop an ability to understand the material and the competence to fulfill their potential.
I tutor VCE years 11 and 12:
- Chemistry
- Physics
- Maths Methods
- Specialist Maths
I teach my students skills in:
- Problem Solving and Study Habits
- Planning and Organisation
- Exam Technique and Preparation
- Time Management
I am available evenings, weekends and holidays.
Fees are as follows:
Year 11 - $70/h
Year 12 - $80/h
Contact
Experience
15 years teaching experience.
Qualifications
Recipient of Australian National Student Prize for outstanding VCE results in Maths
Methods, Specialist Maths, Chemistry and Physics.
Graduated from a Bachelor of Chemical Engineering/Science (Combined major
in Mathematics and Physics) at The University of Melbourne, during which I received a
Dean's Honors Prize in Engineering.
I am currently working as a Chemical Engineer.
Rates
Yr 11- $70/hr
Yr 12 - $80/hr
Student Discount
Mention that you found this advertisement on Tutor Finder and you will receive your first lesson for half the normal hourly rate ($40 instead of $80).
Gender
Male
Registered
Joined Tutor Finder on 05-Jul-2009 (updated profile on 08-Dec-2019
)